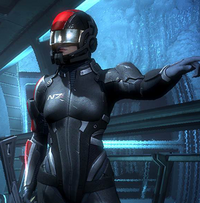 Woohoo, October! Er... soon to be November!
Mass Effect 2
ME2 finally has a release date -- January 26 in North America, January 29 in Europe -- and screenshots and info keep flooding in. I know it's a pain, but please do your best to keep your edits fully sourced; comments such as "likely returning as a squad member" will be scrubbed. Sorry.
But the efforts of everyone who've been keeping those pages in order are MASSIVELY appreciated. You save us a lot of time and trouble, and help keep us a trusted source. In short: you do us proud.
GameInformer
In "The Loremasters" article for November's GameInformer mag, there's a screenshot of MEWiki's front page on the sidebar where they're discussing the role of fan wikis in game development. Okay, it's a tiny wee screenshot and whoever took it doesn't have AdBlock, but it's still immensely cool to see it there, and if you have a copy of GameInformer handy it might be fun to check it out.
Easy ways to help out
Just a reminder of some incredibly helpful things you can do:
Rank your favourite pages by hitting the star rating at the bottom (see this old blog entry for more)
Put a very quick note about your edit in the summary bar before saving (makes searching histories sooo much easier)
Categorise your images (only takes a sec when you're uploading, but saves loads of work later)
Screenshots
Here's some sweet new images you may have missed.
Finally--
I got nothing. : ) Have a good Halloween (and Bonfire Night if you're in the UK).
Tullis.
Useful Resources
Style & Editing Guide
 ·
List o' Templates
 ·
Community Guidelines
 ·
Wanted Pages
 ·
Screenshot Wishlist
 ·
Visitor Search Stats
Your admins
SpartHawg948
 ·
Tullis
 ·
DRY
Ad blocker interference detected!
Wikia is a free-to-use site that makes money from advertising. We have a modified experience for viewers using ad blockers

Wikia is not accessible if you've made further modifications. Remove the custom ad blocker rule(s) and the page will load as expected.