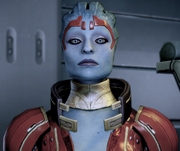 I'm sure I'm not alone when I say Samara is beautiful. She's graceful, gorgeous, and powerful. Yet, shes not a possible romance. That strikes hard at me. If you do the "romance" conversation with her, is there a possibility of her becoming a romance option in Mass Effect 3? What do you think? How many of you think Samara should be a romance option. I think, hell, give it to me in Downloadable Content for Mass Effect 2! Please, I Love Samara!
Ad blocker interference detected!
Wikia is a free-to-use site that makes money from advertising. We have a modified experience for viewers using ad blockers

Wikia is not accessible if you've made further modifications. Remove the custom ad blocker rule(s) and the page will load as expected.