The Omni-tool is a flashlight, scanner, camera, hacking tool, recycling machine, and so much more! But apparently it isn't a watch. Don't worry, Bioware has you covered!
With a stainless steel strap and bezel, water resistant up to 300ft, carbon fiber dial, laser etching of the N7 and Mass Effect logos, and Swiss movement. This watch is a great way to show off your colors as a Mass Effect fan!
You can purchase these watches at the BioWare Store, retail priced at $475 (with a deposit of $150). This watch is limited to 500 units, so get on them quick before they're gone!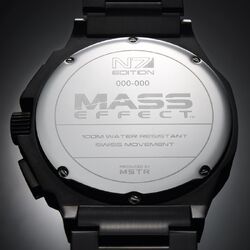 Ad blocker interference detected!
Wikia is a free-to-use site that makes money from advertising. We have a modified experience for viewers using ad blockers

Wikia is not accessible if you've made further modifications. Remove the custom ad blocker rule(s) and the page will load as expected.