"The day of reckoning is nigh! The Reckoning Multiplayer Expansion brings six new never before seen co-op story missions to the game and new co-op gameplay modes. It provides four new maps to conquer and hazard variations of the Earth maps. It also enables reinforcement packs that offer new kits for the salarians, krogans, humans and volus. In-game reinforcement packs now include three new weapons (Chakram Launcher, Blood Pack Punisher and Adas Anti-Synthetic Rifle)."
Well, what do you guys think?
Just gonna leave these here,..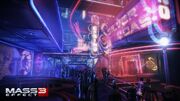 UPDATE: ANNOUCEMENT TODAY http://www.marketwatch.com/story/bioware-gives-fans-one-final-sendoff-for-commander-shepard-in-mass-effect-3-citadel-2013-02-21
https://twitter.com/GambleMike/status/304625932793159680
THANK YOU, JESUS

MORE DETAILS, MY FRIENDS, MORE DETAILS!: http://social.bioware.com/forums/forum/1/topic/343/index/15954180
And CITADEL DLC: http://social.bioware.com/forum/1/topic/323/index/15954108
GOD LOVES US