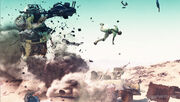 No information has been released as of yet about the new BioWare franchise in development, however Game Informer has just published the first image from the new series. Judging by the image, it will have nothing to do with Mass Effect or Dragon Age. To me, it looks a bit like Rage, the id Software release from earlier in the year. It will be interesting to see how a new series from BioWare will play out. Let us know what you think in the comments!
Ad blocker interference detected!
Wikia is a free-to-use site that makes money from advertising. We have a modified experience for viewers using ad blockers

Wikia is not accessible if you've made further modifications. Remove the custom ad blocker rule(s) and the page will load as expected.