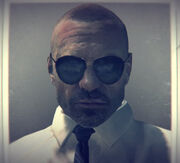 Mass Effect 3: N7 Spec Ops Unit
[Active Field Members]
36 (Human Infiltrator): The field commander of the N7 Spec Ops Unit, 36 has been in every major Alliance engagement since the FIrst Contact War. He got his nickname from killing 36 enemy Turians, using only his single-shot sniper rifle in one engagment. On the battle field, 36 now uses the infamous M-98 Widow to take out enemies, using his Tactical Cloak to get the perfect shot. *Specifically requests that he be put in charge of missions where Cerberus is involved.*
Kilowatt (Geth Engineer): Once a subordinate of Legion, Kilowatt uses it's Geth Turret as a second gun and eye. Along with it's M-96 Mattock and M-12 Locust, it prioritizes eliminating mies before weaker ones and prefers headshots as they are "more effective". *Usually takes part in anti-Geth missions*
Jeff (Human Soldier): The least experienced of the squad, Jeff uses his youth and energy to get close to his enemies and devastate them with his standard-issue M-23 Katana and M-8 Avenger. Jeff prefers to take out the easiest hostiles and letting his fellow squadmates distract and destroy the stronger ones.
Raame (Batarian Sentinel): An opportunist at heart, Raame uses his M-92 Mantis to take out enemies behind cover and support soldiers. When a prey proves evasive, he uses his Submissive Net to subdue the foe until he can end it's misery. *Prefers killing Reapers for his fallen brothers*
Gann (Drell Adept): From a young age, Gann proved to be calm under pressure and accurate in his assassinations. An all-around killer, he uses his M-12 Locust from afar and his M-22 Eviscerator up close. Able to see weaknesses in his squadmates, Gann will intentionally put himself in dangerous and overwhelming situations to keep them safe until they can assist him.
Allen (Human Adept): After joining the Grissom Academy at a young age, Allen has always been strong, charismatic, and energetic. Afer graduating from Grissom Academy, he joined the Alliance as a support soldier. Now in the N7 Spec Ops, Allen keeps to his strengths, staying behind strong soldiers and using his biotics to support them in their battles using his Throw, Shockwave, and the occasional Warp.
Gorram (Krogan Soldier): From the now disbanded Kuroku Clan, Gorram has found a new enemy and new allies. Using his brute force and size, he can get deep into enemy lines and create chaos while his squadmates provide covering fire. His weapon of choise is the Graal Spike Thrower because it "does more than kill you; it kills your clan's honor."
Red (Turian Soldier): Previously under Garrus Vakarian's command during the Battle of Palaven, Red got this alias because he colored his armor red in memory of the blood spilt for Palaven. Using the M-8 Avenger and M-92 Mantis, he can defend any location you order him to and will sacrifice his well being for the sake of the mission.
Deena Vas Gori (Quarian Engineer): Previously a high-ranking officer onboard the Gori, Deena escaped the now destroyed ship and joined the N7 Spec Ops Squad to get some payback for her fallen mates. *Despite her strength and bravery, Deena is suffering from severe malaria and cannot take part in missions. Request that she be placed with Kraw and his STG.
Kraw (Salarian Engineer): Great friend of Captain Kirrahe, Kraw has tried to live up to his friend's expectations. The war against the Reapers is the perfect way to pay his respects to Kirrahe. *More valuable as a Crucible scientist than a soldier, so he's helping build the Crucible with the STG.*
Xana (Geth Infiltrator): A failed attempt by Cerberus to control the Geth, Xana named itself after an old computer virus that could infiltrate and destroy anything it needed to survive. Now, Xana aids in hacking Cerberus terminals and aiding Zaeed Massani in eliminating Cerberus operatives on the sidelines. *Because of his ability to assassinate enemies and get out quickly, it will soon be given its own missions and operative status.*
(Note: This is almost completely made-up; I just had a lot of free time)