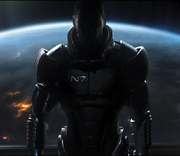 Hi everyone!
About me:
---
My name is Zlatan. I'm born in 1994 and I'm a Mass Effect fan from Bosnia and Herzegovina. My favourite squad mates from ME1 are: Garrus, Liara, Ash and Wrex. From ME2 are: Garrus, Miranda, Thane, Samara and Grunt. From ME3: Liara, Garrus and Javik. I like Renegade Shepard.
-Favourite classes: Vanguard (ME1), Sentinel (ME2), Engineer (ME3).
-My romance option number one is Liara in ME, in ME2 is Miranda (and Liara) and in ME3 again Liara.
-Favourite species: geth, turians, asari.
-Least favourite species: quarians, elcor and hanar.
---
My Interests: gaming, studying of languages, vexillology, Star Trek, Stargate, photoshoping, and watching/reading news...
Favourite games: Mass Effect, Mass Effect 2, Call of Duty 4 Modern Warfare, The Sims 3, Tom Clancy's Rainbow Six Vegas 2, GTA IV, GTA San Andreas, Star Trek: Legacy.
---
--First they ignore you, then they laugh at you, then they fight you, then you win. 16:50, October 17, 2010 (UTC)