User Page Archive: Archive
"Choice can not exist without consequence." - Me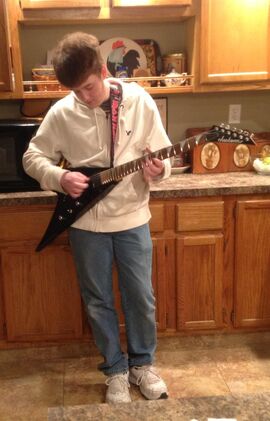 LDR
Pro Gamer
I'm a Libertarian. I'm a Liberal with some Conservative views. I believe in liberty, freedom, and justice. I also play guitar, and am in love with bands like Van Halen, Iron Maiden, AC/DC, and Thin Lizzy.
I'm 15. My birthday is February 11th. I've been here for 3 years. I live in Pennsylvania, United States, and I am of Lebanese, Croatian, Irish, and German (with slight Austrian) descent. I have chestnut hair, blue eyes, and faded tan skin.
One of my greatest hobbies is music. In November of 2012, I bought a Fender Stratocaster and started taking music lessons. I want to bring back the metal scene of the 70s-80s (NOT glam), and have good music in the mainstream again.
Guitar Influences
Edit
A good guitarist has to have his inspirations. I like a lot of technical guitarists, and some obscure ones that have lots of talent but are underappreciated. But my biggest influences are from Eddie Van Halen and Steve Vai.
Favorite Guitarists
Edit
Artists I Like
Edit
A list of all the artists I like. Artists in bold are my favorites.
Parker Shepard
Edit
Parker Shepard

Class:
Soldier
Specialization
Commando
Armament:
M-76 Revenant Light Machine Gun
X-97e Viper Sniper Rifle
M-22 Eviscerator Shotgun
S-5d Phalanx Heavy Pistol
Arc Projector
Abilities:

Hardened Adrenaline Rush
Concussive Shot
Flashbang Grenade
Incendiary Ammo
Cryo Ammo
Disruptor Ammo


Paragon:
100%
Renegade:
25%
Romance:
Ashley

Mass Effect

Edit

Mass Effect 2

Edit

Suicide Mission

Edit