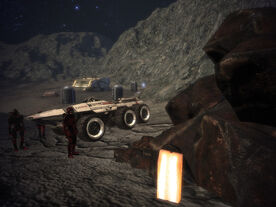 To maintain its fleets and continue to expand, the
Alliance
must find new resources wherever it can. You've recently surveyed an important deposit and claimed it for the Alliance. There must be more like them in the
Traverse
.
Acquisition
Edit
This assignment appears in the Journal after the first mineral you survey.
Locations
Edit
See also: Planet Index
If JavaScript is enabled, the columns may be sorted by clicking on the up/down arrow icons in the column headers.
Survey Complete
Edit
After discovering all the required minerals indicated on the journal, you will receive the UNC: Survey is complete journal entry.
There is currently a bug in which rapidly pressing the 'A' button upon discovery may lead to being able to survey the same mineral more than once.
Ad blocker interference detected!
Wikia is a free-to-use site that makes money from advertising. We have a modified experience for viewers using ad blockers

Wikia is not accessible if you've made further modifications. Remove the custom ad blocker rule(s) and the page will load as expected.