Mass Effect
Edit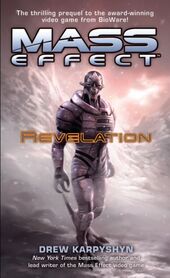 There are currently four novels set in the
Mass Effect
universe. These stories are related to the events of the first Mass Effect trilogy. As the game is considered to be the player's story, none of the novels feature
Commander Shepard
in any significant detail.
Three of the Mass Effect novels have been written by Drew Karpyshyn, while the fourth and most recent novel was written by William C. Dietz. All novels have been published by Del Rey Books.
Mass Effect: Andromeda
Edit
Three novels set in the Mass Effect: Andromeda universe are due for 2017. Their storylines are to weave directly into the game, taking place "concurrently with the adventure of the game itself". Published by Titan Books, the novels are being written by various authors.[1]
Other Books
Edit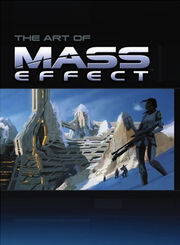 The Art of Mass Effect is an art book released alongside the original game. With 175 pages, it includes concept art ranging from characters, to scenery, to the technology of the Mass Effect universe. It was first published in November 2007, by Prima Games; it was also included with special editions of the Mass Effect strategy guide, which was also published by Prima.
The Art of the Mass Effect Universe is an art book featuring a compilation of the arts and descriptions that you can find on the official art books of each game. It also includes never-before-seen artwork created for the Mass Effect franchise. It was released on February 8, 2012. The BioWare Store offered two limited hardcover editions of the book. The first, of which 1,000 copies were produced, included an exclusive slipcover for the book.[2] The second, of which 1,500 copies were produced, was a Collector's Edition with an exclusive clamshell cover and an additional 24-page "Art of the Comics" section. A digital version of that book is also available on mobile devices (Android and iOS).
The Art of Mass Effect: Andromeda is an art book that will be released alongside the game around early 2017. With 184 pages, it includes concept art ranging from characters, arsenal, locations, vehicles, and more.[3] The art book will also be available in classic and limited edition hard copies. The limited edition will include a deluxe "datapad" slipcase, a portfolio including three blueprints of the Tempest exploration vessel, and a code for a digital copy of the book.[4]
References
Edit
Ad blocker interference detected!
Wikia is a free-to-use site that makes money from advertising. We have a modified experience for viewers using ad blockers

Wikia is not accessible if you've made further modifications. Remove the custom ad blocker rule(s) and the page will load as expected.