You've discovered a datapad that recounted a scavenger's run-in with a gang run by "Little Mouse". Find more datapads to learn more about this gang and its activities.
Acquisition
Edit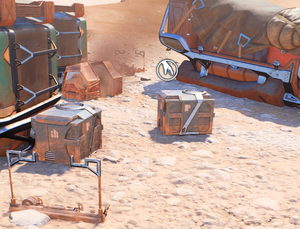 Ryder receives this task after stumbling upon a datapad in a scavenger camp on Elaaden that details a gang leader named "Little Mouse".
Walkthrough
Edit
Locate More Datapads
Edit
Ryder has to find five more datapads. The datapads are spread randomly among the camps and crashed shuttles. If a camp doesn't have a datapad, it might have one the next time Ryder visits.
Track Down The Stash
Edit
At the navpoint, Ryder finds the corpse of the scavanger who wrote the datapads, and a container with the stash.