Talk:Equipment
2,830pages on
this wiki
I have compiled a list of the Equipment Manufacturers, such as Elkoss Combine, Hahne-Kedar, Elanus Risk Control etc. but am unsure where i should place it, Anyone have a suggestion?
MacenKhan 21:35, 1 December 2007 (UTC)
Upgrades redirect
Edit
is it really useful to redirect 'upgrades' to this page? Seems likely people would be looking for info on the ME2 tech system.
Yes. If you check the incoming links to the redirect, you'll see that a number of existing articles from the first episode arrive there. It would be equally confusing for them. This is part of the ongoing problem with integrating the information from the two episodes. See Forum:ME1 and ME2 for ongoing discussion. --DRY 02:18, February 16, 2010 (UTC)
Search google "Mass Effect 2 list of upgrades" and this is the most popular result. Has nothing to do with ME2. ComaDivine 11:03, February 26, 2010 (UTC)
I think you'll find that if you try "Mass Effect list of upgrades" and "Mass Effect 1 list of upgrades", you'll get much the same result. The underlying problem is the page's title and metadata contain the string "Mass Effect 2" and that interacts strongly with PageRank…. The problem is that just changing the redirect is going to break original ME pages, not that the term might now be more appropriate to ME2. The incoming links to the redirect would need to be changed as well, before the it can be redirected elsewhere. --DRY 18:20, February 26, 2010 (UTC)
Where did the page on ME2 tech upgrades go?
Number X upgrades
Edit
On wich level do the HWM X, or any X level thing become avaliable? I never encountered any.
They all appear starting at level 55. See the Experience Guide for more information. Lancer1289 17:18, May 26, 2010 (UTC)
Thanks for the info... The highest level I achieved was 53.
Thermal Clips and ME2 Weapons
Edit
I have scanned a page of the 360 game manual and have uploaded a portion of that page here, and I want to update some information on Thermal Clips.
I would like to at least update the information on what is known about how they work in the Equipment page.
Below is the scan that describes how heat sinks are used in the Thermal Clips. I don't know if it is ok to use it in the wiki section, which is why I post it here in the Talk page.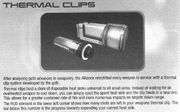 http://social.bioware.com//uploads_user/1158000/1157264/78171.jpg
Thanks in advance, --Praetor Shepard 21:59, January 21, 2011 (UTC)
I would opposed that being put into the article for many reasons. Also what would you update? What is listed is already covers how they are used, where to pick them up, and links to the Codex. I don't see what there is to update so you are going to have to a lot more specific. Lancer1289 22:04, January 21, 2011 (UTC)
Well, I would like to make these changes Below:
In Mass Effect 2, the weaponry system has been changed to incorporate the use of Thermal Clips to load multiple heat sinks in the weapons. Instead of waiting for an overheated weapon to cool down, the spent heat sink is ejected and the clip feeds in a new heat sink. This allows for a greater sustained rate of fire and more numerous impacts on targets down range.
The HUD element in the lower left corner shows how much Thermal Capacity is left in the equipped weapon. The number on the left (the one which decreases along with the nearby bar) shows how many shots you can fire before your current heat sink becomes unusable. The other number shows how many shots are available from your backup heat sinks. The player can manually "reload" a fresh heat sink at any time, or Shepard will automatically do so when the current heat sink becomes unusable. The Thermal Clips, used to load more heat sinks into the weapons, can be obtained from fallen enemies or scattered around the environment.
They are minor changes really, but at least on the bioware forums there has been much confusion over these details. Thanks, --Praetor Shepard 22:18, January 21, 2011 (UTC)

Could you highlight what is being changed exactly in italics as I can't see much difference, and not enough to justify changing it at this time? This might make it more clear, but right now I can't see anything that makes it worth changing the wording around. Lancer1289 22:25, January 21, 2011 (UTC)
Yeah, sorry. I made the changes in italics above. --Praetor Shepard 22:33, January 21, 2011 (UTC)

Um the problem with a few of those things are contrary to information that is presented in the game, a.k.a. the Codex. Thermal Clips are the exact same as heat sink so the first paragraph is a no go. There was a very long, very annoying discussion about this, which I didn't take part in, but Spart did, and it does go against what is in the Codex. The manual also seems contradicts what is in the Codex and what is presented. To quote the Codex "a well-trained soldier can eject and swap thermal clips in under a second." Note the lack of "heat sink" and thermal clip would be more accurate. The only thing I can see as valid is "The number on the left", and that is about it. There are just many problems with the manual and opinions contradicting the Codex and the game, which are obviously more canon. Lancer1289 22:57, January 21, 2011 (UTC)
That discussion was with me! Yahoo! And yeah, since then I've learned that the codex entry for thermal clips did in fact change at some point during development. You can see that on the Mass Effect 2 cut content page. But even though the codex entry changed, the in-game animations didn't, which is why you don't see Shepard replacing the heat sinks he/she ejects. Hence the source of my confusion. Tali's no.1 fan 23:11, January 21, 2011 (UTC) Why was my post moved? Tali's no.1 fan 12:21, January 22, 2011 (UTC)
Well, in game, Thermal Clip pickups allow for the player to refill all used weapons that are not filled to capacity also, so the reason I believe that Thermal Clips are swappable is that they function like contemporary speedloaders.
Since they seem to work like speedloaders, that idea also helps explain how the player is unable to transfer the Thermal Capacity from one weapon to another. The last thing I considered is that Thermal Clips were a result of fighting the Geth after the Battle of the Citadel so the ME2 weapons had to be retrofitted (the Locust and Mattock in particular).
So, I figure that the system that cooled down the ME heat sink was replaced with the ME2 Thermal Clip system, because the same gun models seem to be used in both games, with the ME2 weapons ejecting the glowing orange cylinders (I think those are heat sinks). Also, the HUD includes that Red bar that deceases with firing the equipped weapon and Shepard was very quickly able to figure out that pistol at the beginning of the game, that is why I believe ME2 weapons should still use heat sinks for the weapons to function. Thanks. Sincerely, Praetor Shepard 23:43, January 21, 2011 (UTC)

But that does contradict what is in the Codex and it your opinions. The Codex presents it quite differently which seems to contradict your speedloader theory. Also the same meshes are used, but not necessarily the same weapons. There are many, many different things between ME and ME2 in terms of weapons. The Orange cylinders are clips as it is stated in the Codex. I have already stated what is acceptable, because of the canon and Codex conflict, and I am not going to restart this debate. Lancer1289 23:51, January 21, 2011 (UTC)
Debate? :(
That hurt, I was simply trying to answer your questions as best I could, and I tried to explain why I thought there should be updates made to this entry. If I'm wrong fine, sorry for poorly getting my point across.
Anyway, if you like, I can still add only what is acceptable. Sincerely, Praetor Shepard 00:07, January 22, 2011 (UTC)
The debate I was talkinb about was the one the (visual, manual, other things, and opinions) vs. (Canon and Codex debate), not this one. This isn't a debate, but rather a discussion about content. Also you did change more than I said I would be ok with, which Spart corrected. I was not comfortable with shots, and ammo was more accurate. Lancer1289 00:54, January 22, 2011 (UTC)
Well, so that I'm not missunderstood here, I'm not intending any trouble. I had checked the Codex entry on Small Arms before saving the page. It doesn't help that my browser is also acting a bit screwy this evening. Again sorry. Praetor Shepard 02:28, January 22, 2011 (UTC)
A little off the point, but could someone tell me a bit more about these aforementioned speedloaders? The wikipedia page is a bit above my head. Tali's no.1 fan 17:55, January 23, 2011 (UTC)
Basically helps load the firearm faster then doing it "by hand". Depending on the type of firearm, it may also help unloading the clip more quickly. --silverstrike 19:53, January 23, 2011 (UTC)
ME2 Base Damage Info
Edit
Hi,
 I use this site for information on ME2 & I still don't know what the numbers in parenthesis on Base Damage mean exactly.  Presumably it has something to do with max damage possible but it's not defined or communicated (at least such that I can find it) what exactly these numbers in parenthesis mean & how they were computed.  Can someone tell me what they mean?  Of course, alternatively a proper legend could be posted in an obvious place (say under Weapons for ME2?) but regardless, I'm just looking for the answer.  Not sure how I'll get this information since I don't want my email address to be "redistributed at will".

thanks & best regards, Pedal2Metal
Cleanup Proposal
Edit
Alright, this page is marked for cleanup, but I'm not entirely sure what that entails. However, I notice the page seems rather poorly structured. The sections are all assumed to pertain to Mass Effect, with sub-sections for Mass Effect 2. The information in the article also just seems poorly written in general - not to offend anyone.
I am willing to singlehandedly restructure the article, which would comprise of reorganizing the sections and filling the sections with a basic/summary amount of information, with links to the main/relevant articles. I think this would also really help with the problem that was discussed earlier on the talk page, about this page being linked to from a number of other pages and search results, and not always having the information people are looking for. My proposed structure for the article is as such:
Mass Effect: Armor; Weaponry; Upgrades; Biotic Amps; Omni-tools; Crate Glitch
Mass Effect 2: Armor; Weaponry; Upgrades
I'm only posting about it on this page beforehand, because it is sort of a sizable undertaking, and I'd like someone with more influence than myself to sign off on it before I go around remodeling articles. --FoxtrotZero 21:21, January 15, 2012 (UTC)
This really needs to be sandboxed and proposed in the Projects forum. Lancer1289 21:25, January 15, 2012 (UTC)
Alright, I'll do that, then. --

Foxtrot

Zero

21:26, January 15, 2012 (UTC)
The page has been created at Forum:Overhaul_for_Equipment --

Foxtrot

Zero

23:44, January 15, 2012 (UTC)
ME3 Heatsink detail
Edit
Hey people, just letting you all know that I've extracted and rendered out a thermal clip model which weapon eject when reloaded, if anybody wants to put it in an article somewhere. EDIT: Removed images per request, also because user Kainzorus Prime fixed the background on them, so it'd be better to use his. Thanks, by the way!

Not sure why such a radical change... I doubt the overhauled entire weapon technology in 6 months. Eudaimonium (talk) 13:52, August 21, 2012 (UTC)
those might've been usable on the wiki if you bothered to save them as PNGs with transparent background. as it is now, i dunno. (also, your first pic is quite out of focus) T̴̴͕̲̞̳̖̼̱͒͛̎͒ͫ̃ͧeͩ̈̽̈҉͓̝̰̼̦̫̤̀͠m̫̪̪̯̻͎̫̅̇̓̇͌̚p̸̙̝̓̓͌ͨ͆ͣͥ̂̕o͒̽͐̽͏̞̬̻͕͔͕͚̰͍͠͞ṙ̢̞͚͈̹̰ͨ̓ͭ̈́̌ạ̢̧̪̹̺̺̣̹̲͂͆̏ͪͨ͒ͭř̹͈͜͠y̷͍̻̜̹̼̾̽̈́e̵̹̼̟̦͚͐̈́͌͘d͉̲̣̻͉̱͗̅ḭ̷̻̆͋̆̓̔͝t̨͍̦̫̗͂̅̍̋̆ͩ͝ộ̫̟̬̳̝̲̾ͫ̒̿ͮ̑̚rͯ̎ͨͭ̄̿̽͛҉̠̫̱̠̘̘̲́ͅ7̩̻ͤͩͨ͝͡8̜̣̙͇̻ͨ͛͛̆͒̆̽̒͐͜͡ ͥ̍̉̃̇ͥ̓ͨ͏̕҉̥̹͓̗̤̠̖̤ (talk) 13:59, August 21, 2012 (UTC)
^And why exactly must they have transparent backgrounds? None of the weapon and equipement pictures do. And I have not used any sort of Depth-of-field post process effects while rendering these so the first picture is definitely not "out of focus". Eudaimonium (talk) 14:24, August 21, 2012 (UTC)
the weapon/equipment images were ripped as is from the game files. you just rendered yours from those. nobody wants to see a lot of grey nothing. and the first picture is not DoF out of focus, it's off-center out of focus. too much grey nothing on the upper parts and you clipped the model a teeeeny bit near the bottom. T̴̴͕̲̞̳̖̼̱͒͛̎͒ͫ̃ͧeͩ̈̽̈҉͓̝̰̼̦̫̤̀͠m̫̪̪̯̻͎̫̅̇̓̇͌̚p̸̙̝̓̓͌ͨ͆ͣͥ̂̕o͒̽͐̽͏̞̬̻͕͔͕͚̰͍͠͞ṙ̢̞͚͈̹̰ͨ̓ͭ̈́̌ạ̢̧̪̹̺̺̣̹̲͂͆̏ͪͨ͒ͭř̹͈͜͠y̷͍̻̜̹̼̾̽̈́e̵̹̼̟̦͚͐̈́͌͘d͉̲̣̻͉̱͗̅ḭ̷̻̆͋̆̓̔͝t̨͍̦̫̗͂̅̍̋̆ͩ͝ộ̫̟̬̳̝̲̾ͫ̒̿ͮ̑̚rͯ̎ͨͭ̄̿̽͛҉̠̫̱̠̘̘̲́ͅ7̩̻ͤͩͨ͝͡8̜̣̙͇̻ͨ͛͛̆͒̆̽̒͐͜͡ ͥ̍̉̃̇ͥ̓ͨ͏̕҉̥̹͓̗̤̠̖̤ (talk) 14:34, August 21, 2012 (UTC)

Can anyone just post links to the images? They break up talk page formatting horribly.
As to the point, everything I would have said has already been said. They need work, and either way, I doubt they would be permitted. They just aren't usable. Lancer1289 (talk) 14:45, August 21, 2012 (UTC)
Man, you're a hard bunch to please :( Thought it would look good in Trivia section or something. Whatever. Oh and Lancer, not sure what do you mean by images breaking the page formatting (works perfectly on my end) but you're more than free to edit it however you see fit. Given the direction of this "talk", you might as well delete it. Eudaimonium (talk) 18:21, August 21, 2012 (UTC)
Have fixed images. [1] [2] It took me less than five minutes to render these. God forbid someone could have done that instead of bickering about it. --Kainzorus Prime Walkie-talkie 22:49, August 21, 2012 (UTC)
^Could be a slight language barrier here, but I don't understand what are you saying. Something I did? Eudaimonium (talk) 23:04, August 21, 2012 (UTC)