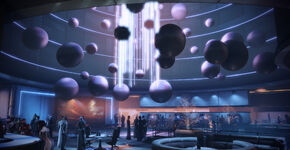 The Silver Coast Casino is a casino located in the Citadel's Silversun Strip owned by Elijah Khan[1].
The following interactive casino games can be found in this area:
Main article: Quasar
Roulette
Edit
Varren Racing
Edit
Broadcast live from Tuchanka.
The only interaction with Kasumi Goto during the DLC, apart from using her as a squad mate in the Armax Arsenal Arena, takes place here. Look for her hidden device near the Varren racing game. It's situated near the bottom of the side of the bar/wall, near a turian.
Missions
Edit
According to level developer Jos Hendriks, the varren racing minigame had plans for a plot involving the racer C-Sec Biscuit winning a 100:1 payout after losing 50 times.[2]
References
Edit
Ad blocker interference detected!
Wikia is a free-to-use site that makes money from advertising. We have a modified experience for viewers using ad blockers

Wikia is not accessible if you've made further modifications. Remove the custom ad blocker rule(s) and the page will load as expected.