Shotgun Guide
Talk

8
2,830pages on
this wiki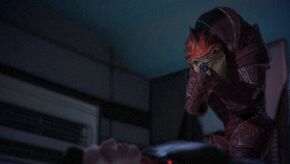 Shotguns
can be used both offensively and defensively, described below.
Offensive Approach
Edit
Offensive shotgunning is fairly simple, once you understand its limitations. The shotgun overheats faster than any weapon besides sniper rifles, so you want to max out shots fired. A recommended combination is the HMW shotgun, with one Frictionless Materials X and one Scram Rail X with Inferno Rounds / Sledgehammer Rounds. When using this setup with Inferno Rounds, your shotgun will never overheat (unless an opponent uses Sabotage).
Defensive Approach
Edit
Defensive is basically the opposite. This is for taking out enemies from behind cover, or taking out heavy charging enemies such as krogan or Geth Destroyers. Instead of maxing out shots fired, the focus is on damage. And lots of it. Fast. A recommended combination is an HMWSG, 2 Rail Extension VIIs which do more damage than a Scram Rail and High Explosive Rounds. Explosive Rounds overheat the shotgun in one shot no matter how many heat sinking upgrades you have, so the Rail Extension's heat raiser make absolutely no difference on that factor.
This configuration maximizes damage done, and combined with Carnage, is capable of taking out most anything in one shot. Worst case scenario is that they fall over, leaving them open to a melee or two to finish them. This style is recommended for any class on higher difficulties where the offensive approach is slightly more suicidal.
Sniping with a Shotgun
Edit
After committing many points into Shotgun and Spectre Training ability, the player will be able snipe the enemy with a shotgun by using the zoom in option. Players should take their time, stay behind cover, and make sure that the target in question is not hiding, covering, or running away. It is recommended to stay crouched, zoomed in, equip weapon with good accuracy and let the shotgun cool down after every shot by ducking back into cover.