For standard Predator Armor produced by Hahne-Kedar, see Predator Armor.
Predator L/M/H Armor is manufactured by Armax Arsenal and comes in human, turian, and krogan models. Shepard can procure the armory license for Armax Arsenal from Expat, the volus merchant in the Wards' market district.
Predator L/M/H Armor has the highest shields and nearly the highest tech/biotic resistance of all human and turian armors attainable without console commands. It is considered one of the top two regularly acquirable armors, the other being Colossus Armor. Predator L/M/H Armor has lower damage resistance than Colossus Armor, but higher shields and tech/biotic resistance. It has a green camouflage pattern.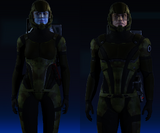 Light Predator L Armor (human, turian)
Armor Level:
I
II
III
IV
V
VI
VII
VIII
IX
X
Manufacturer:
Armax Arsenal
Damage Protection:
-
-
-
-
-
-
24
26
28
30
Shields:
-
-
-
-
-
-
342
378
414
450
Tech/Biotic Protection:
-
-
-
-
-
-
46
47
49
50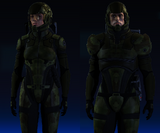 Medium Predator M Armor (human, krogan, turian)
Armor Level:
I
II
III
IV
V
VI
VII
VIII
IX
X
Manufacturer:
Armax Arsenal
Damage Protection:
-
-
-
-
-
-
36
38
40
42
Shields:
-
-
-
-
-
-
378
414
450
486
Tech/Biotic Protection:
-
-
-
-
-
-
38
39
41
42
Heavy Predator H Armor (human, krogan)
Armor Level:
I
II
III
IV
V
VI
VII
VIII
IX
X
Manufacturer:
Armax Arsenal
Damage Protection:
-
-
-
-
-
-
52
54
56
58
Shields:
-
-
-
-
-
-
432
468
504
540
Tech/Biotic Protection:
-
-
-
-
-
-
30
31
33
34