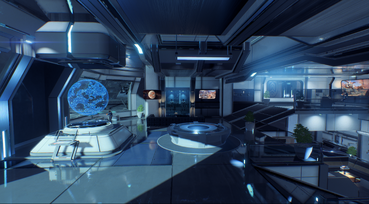 The Pathfinder HQ section of Operations is mission planning and trophy room for the pathfinder crew.
The headquarters is multi-leveled with the lowest level containing a secretary desk adjoining the door to the rest of the Operations wing. The middle tier contains several display cases with scan-able objects and holographs documenting the exploratory accomplishments of the Milky Way races. The upper tier contains the initiative director's desk now occupied by Director Tann.
Datapads
Edit
Found on a coffee table on the middle tier
Ad blocker interference detected!
Wikia is a free-to-use site that makes money from advertising. We have a modified experience for viewers using ad blockers

Wikia is not accessible if you've made further modifications. Remove the custom ad blocker rule(s) and the page will load as expected.