Omega: Packages for Ish
Talk

30
2,830pages on
this wiki
A salarian businessman named Ish needs packages picked up. The packages are near Marab's shop on the Citadel and in Eternity on Illium.
Acquisition
Edit
This assignment will be available after completing the Stop the Collectors mission on Horizon. Illium will also be available once the mission has been completed.
Walkthrough
Edit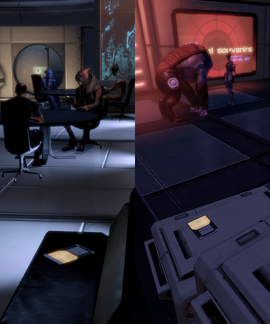 Upon entering
Omega
, you can find two salarians on the right before the entrance to the Market/Apartment. Talking to Ish will allow you to take on a mission that involves traveling to the Citadel and Illium to find two packages to bring back to him.
The Citadel package is in front of Marab's shop, Saronis Applications, on Zakera Level 26.
The Illium package is in Eternity across from the turian and quarian sitting at the table.
After acquiring one of the packages, Shepard has two options:
1. If you bring the package to Ish, you can either:
Give the package to Ish for +40 (50) experience and +1125 credits.
Or convince Ish he's in over his head for +40 (50) experience, +3375 credits, and no morality points; yet the mission remains open in the journal.
2. If you bring the package to Anto (one of Aria's bodyguards in the Afterlife Club) - which you must do before convincing Ish to leave as described above - you can either:
Give the package to Anto for +5 Paragon points.
Or extort money from Anto for +40 (50) experience, +2250 credits, and +5 Paragon points.
In either case, no one will hear from Ish ever again if the mission is turned in to Anto.
Should you choose the middle option of "Take care of Ish", Shepard will simply suggest that Anto "clean up the mess" by killing Ish, which Anto does. And if Jacob is in the squad, he finds Shepard's choice to be harsh, though he still sees that Ish deserves such an end. If Miranda is in the squad, she'll say that "that's exactly how [she] expected Ish to go out".
After acquiring both of the packages, Shepard options are the same, except for one:
If you give the packages to Ish, you are awarded with +40 (50) experience, +4500 credits, and 5 renegade points.
Note: Speaking to Ish with Jacob or Miranda in the party will reveal that they have worked together in a mission before although Ish was a coward and a liar. Also, if the player has played and completed Mass Effect Galaxy, a few lines of extra dialogue can be heard during the conversation with Ish, though Jacob and Miranda have to be in the party for the extra dialogue to be initiated.