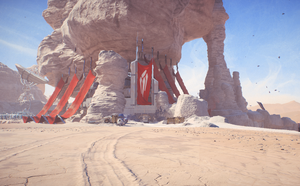 Led by Nakmor Morda, New Tuchanka was founded on Elaaden by the krogan who departed the Nexus in the wake of the rebellion. It is named after the krogan's homeworld, Tuchanka.
The colony was built directly after the departure of the krogan from the Nexus. It was located near a sinkhole to mitigate the harsh conditions of the planet and was built with prefab materials from the Andromeda Initiative that were taken by the krogan when they left the Nexus. For food supplies, the colony relies on the greenhouse, handled by Vorn and his assistant Hark, where the plants grow faster than on the irradiated Tuchanka.
Throne Room
Greenhouse
Genetics Lab
Fighting Pit
Bar
Elaaden Outpost
Edit
Depending upon Ryder's choice about the fate of the stolen Remnant Drive Core, the Elaaden Outpost

may be created nearby the krogan colony of New Tuchanka. For all intents and purposes, both the colony and the outpost together are named "New Tuchanka" according to the codex entry. It is the only unnamed distinct outpost on a planet throughout the Cluster.
A sweltering landscape with rising humidity, Elaaden is home to the outpost New Tuchanka, which is a cooperative venture between the Initiative and the krogan colony. (Founded by Nakmor Morda, Pathfinder Ryder; Mayor Kariste Archana elected.)
The director of colonial affairs, Foster Addison, thought that the krogan were definitively lost for the Initiative in the aftermath of the Nexus Uprising. With Ryder's deal with krogan, the colony can retroactively be called an Outpost despite a specific leadership among the krogan.
Residents of New Tuchanka
Edit
New Tuchanka
Edit
Mission-Related Residents
Edit
Merchants
Edit
Other Residents
Edit
Missions
Edit
The following Priority Ops missions take place or are acquired at New Tuchanka:
The following Allies and Relationships missions take place or are acquired at New Tuchanka:
The following Heleus Assignments missions take place or are acquired at New Tuchanka:
The following Additional Tasks take place or are acquired at New Tuchanka:
Datapads and Terminals
Edit