N7: Cerberus Lab
Talk

30
2,830pages on
this wiki
The Alliance has located a new Cerberus laboratory located on Sanctum. Investigate the lab and deal with any potential threat.
Acquisition
Given by Specialist Traynor after the player has received Priority: Palaven.
Walkthrough
This mission occurs on the multiplayer map Firebase Glacier.
Note: If the player completed Priority: Eden Prime before beginning N7: Cerberus Lab, without completing Priority: Palaven as well, they will not be able to bring Javik on this mission.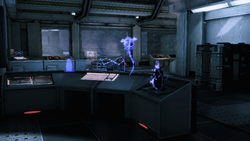 At the beginning of the mission, go left up the stairs and through the doors. Directly on the left on the floor, there is a Sniper Rifle Enhanced Scope. Directly to the right on the console are credits (3,000). Ahead in the room in the hall on the left is a medical station (50 experience). In the corner of the room is a journal entry (18 experience). Next to the ammo pile in the room are more credits (4,000). Down the hallway past the reaper artifact (not down the stairs on the left or the right) is a small room with a failed medi-gel experiment. Return to where you started, and go right and pick up the credits (3,000) right past the doorway. Go down the stairs and in the corner is a journal entry (18 experience)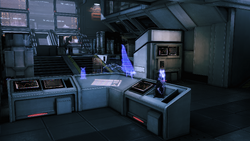 To get to each artifact you will need to deactivate the containment. After locating the artifact, eliminate the Cerberus troops and collect the artifact, then return to the landing pad and place the artifact onto the shuttle for extraction. Go back into the base to locate the next artifact, there are more Cerberus troops, this time with turrets. After locating the second artifact, you must clear the landing pad so Cortez may land. After clearing the pad, activate the shuttle to complete the mission.
Completion of this mission gives you +5 Reputation, 10,000 credits, and the Cerberus Research Data War Asset.
Enemies
Trivia
There are two terminals with journal logs on them. The first log describes a newly arrived trainee's feelings about Cerberus troops and how "intense" they are, the second shows the effects of his "integration" into Cerberus, his free will completely subverted by Cerberus. The logs are signed by a C. Talavi. A Private Talavi will be present in the Docking Bay D24 on the Citadel after Priority: The Citadel II, trying to get a transfer to fight Reapers instead of Cerberus because her brother recently joined Cerberus.