Home
Talk

233
2,830pages on
this wiki
Welcome to Mass Effect Wiki!
The comprehensive encyclopedia for the Mass Effect universe
2,830 articles since July 2007
UT-47 Kodiak Drop Shuttle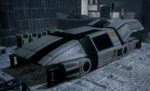 Capable of planetary flight and limited FTL travel, the UT-47 Kodiak Drop Shuttle is used by military and civilian organizations throughout the galaxy. Nicknamed the "Combat Cockroach," the Kodiak drop shuttle can carry a total of 14 people. Normally incapable of flight, the UT-47 has a large element zero core that counters its mass. The shuttle was tested in the atmosphere of Venus, to ensure that it can land in potentially dangerous environments, such as hard vacuum and in extreme temperatures. It uses advanced environmental sealant technology, which minimizes exposure of vulnerable parts to the elements. While the standard UT-47 is unarmed, one variant of the shuttle, known as the UT-47A, is equipped with a pair of front-mounted mass accelerator cannons for antivehicular combat. Flying a UT-47A during combat is, however, extremely challenging, as the pilot must manage the vehicle's speed and handling, while maintaining enough mass to resist enemy fire and hazardous weather. more...
Not sure where to start?
Adding content
Wiki maintenance