Home
Talk

253
2,973pages on
this wiki
Welcome to Mass Effect Wiki!
The comprehensive encyclopedia for the Mass Effect universe
2,973 articles since July 2007
Armax Arsenal Arena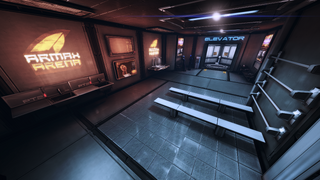 People seeking the thrill of a combat challenge without resorting to participating in an actual war can test their mettle in the Armax Arsenal Arena, a publicly accessible combat simulator on the Citadel's Silversun Strip. Utilizing holographic technology to provide a fully immersive experience, the Arena offers a variety of battle environments and adversary types. Victory is achieved by surviving three waves of enemies, and points are awarded based on time and speed efficiency factors. These points can be redeemed at the Arena's kiosks for special rewards, and leaderboard rankings display the players who've achieved the most points. 5... 4... 3... 2... 1...
Not sure where to start?
Adding content
Wiki maintenance
Help us by lending a hand with one of our current projects.
Make your voice heard in our policy forum.
Clean up articles in need of attention.
Editorial help correcting spelling or grammar is always appreciated.
Know of languages other than English? Append language links on articles with translations to other tongues.
November 7, 2014 - Second N7 Day anniversary! Developer round table at twitch on 10 AM PST announced.
August 7, 2014 - Casey Hudson, long-time project director for the Mass Effect franchise, leaves BioWare.
July 23, 2014 - Issue Thirteen, the final issue of Mass Effect: Foundation, is released.
June 25, 2014 - Issue Twelve of Mass Effect: Foundation is released.
May 28, 2014 - Issue Eleven of Mass Effect: Foundation is released.
April 23, 2014 - Issue Ten of Mass Effect: Foundation is released.