Welcome to Mass Effect Wiki!
The comprehensive encyclopedia for the Mass Effect universe
2,974 articles since July 2007
Kenneth Donnelly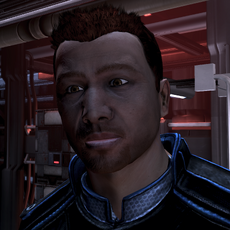 Kenneth Donnelly is a brilliant but perverted engineer on the Normandy SR-2. An ardent supporter of Commander Shepard, Kenneth once worked for the Systems Alliance until they discredited the events at the Battle of the Citadel. He openly disagreed with the official stories, eventually leading to his employment at Cerberus along with fellow engineer and his best friend Gabriella Daniels. Kenneth frequently injects sexual innuendos in his comments at all the women he works with (plus some he only knows by reputation) except for Gabby, a fact that may or may not be addressed depending on whether they both survive Shepard's Suicide Mission against the Collectors or not. more...
Not sure where to start?
Adding content
Wiki maintenance
Help us by lending a hand with one of our current projects.
Make your voice heard in our policy forum.
Clean up articles in need of attention.
Editorial help correcting spelling or grammar is always appreciated.
Know of languages other than English? Append language links on articles with translations to other tongues.