Welcome to Mass Effect Wiki!
The comprehensive encyclopedia for the Mass Effect universe
2,974 articles since July 2007
Priority: Palaven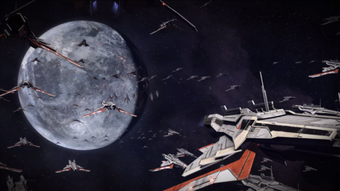 The turian Councilor has tasked Commander Shepard to retrieve Primarch Fedorian from Menae as part of a scheme for liberating Earth in the war against the Reapers. Unfortunately, Fedorian's shuttle has been blown out of the sky by the time of Shepard's arrival, and the next available successor is revealed to be General Adrien Victus who has been fighting in the front lines far from the main camp. Hordes of husks stand in the way, among them parodies of the turian form twisted to do the Reapers' bidding. more...
Not sure where to start?
Adding content
Wiki maintenance
Help us by lending a hand with one of our current projects.
Make your voice heard in our policy forum.
Clean up articles in need of attention.
Editorial help correcting spelling or grammar is always appreciated.
Know of languages other than English? Append language links on articles with translations to other tongues.