Home
Talk

235
2,885pages on
this wiki
Welcome to Mass Effect Wiki!
The comprehensive encyclopedia for the Mass Effect universe
2,885 articles since July 2007
Essex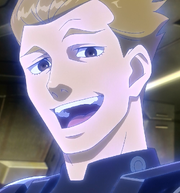 Essex is a member of Delta Squad, an Alliance special forces unit sent to Fehl Prime in 2183 to defend the colony against marauding Blood Pack mercenaries. He is a hotblooded and oftentimes loudmouthed biotic prone to grandstanding but has the talent and the kill count to back it up despite any momentary setbacks arising from his mistakes, always reasoning that he just wants to look cool before he dies. Over the course of two years he serves under the leadership of Lieutenant James Vega in safeguarding the colony and is instrumental in providing heavy support for the Lieutenant's many plans. He is attracted to fellow marine Kamille, who is annoyed with his persistent advances.
more...
Not sure where to start?
Adding content
Wiki maintenance

July 18, 2013 - Mass Effect Wiki is now six years old! Thanks to all contributors who have helped the wiki succeed!
July 5, 2013 - Congratulations to our newest Administrator, Temporaryeditor78!
March 11, 2013 - Congratulations to our newest Administrator, Trandra!
March 7, 2013 - Congratulations to our newest Chat Moderators, Garhdo and Tali's no.1 fan!