Welcome to Mass Effect Wiki!
The comprehensive encyclopedia for the Mass Effect universe
2,973 articles since July 2007
N7: Blood Pack Communications Relay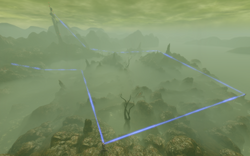 The Blood Pack mercenary organization has a mining operation on the planet Tarith, a world in the lawless Terminus Systems. Disabling the operation's communications relay may go a long way in disrupting the Blood Pack's activities, though the planet's thick chlorine atmosphere severely limits ground-level lines of sight. Navigation through the fog towards the relay requires seeking out and activating guide beacons. A few scattered supplies and resources are available in nooks and crannies of the mining site, though there are more than a few mercenaries and native fauna lurking in the way. more...
Not sure where to start?
Adding content
Wiki maintenance
Help us by lending a hand with one of our current projects.
Make your voice heard in our policy forum.
Clean up articles in need of attention.
Editorial help correcting spelling or grammar is always appreciated.
Know of languages other than English? Append language links on articles with translations to other tongues.
November 7, 2014 - Second N7 Day anniversary! Developer round table at twitch on 10 AM PST announced.
August 7, 2014 - Casey Hudson, long-time project director for the Mass Effect franchise, leaves BioWare.
July 23, 2014 - Issue Thirteen, the final issue of Mass Effect: Foundation, is released.
June 25, 2014 - Issue Twelve of Mass Effect: Foundation is released.
May 28, 2014 - Issue Eleven of Mass Effect: Foundation is released.
April 23, 2014 - Issue Ten of Mass Effect: Foundation is released.