Home
Talk

253
2,972pages on
this wiki
Welcome to Mass Effect Wiki!
The comprehensive encyclopedia for the Mass Effect universe
2,972 articles since July 2007
Ilos: Find the Conduit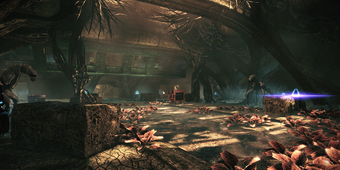 Both Commander Shepard and Saren Arterius race across the ruins of the dead world Ilos in order to find the Conduit, a mysterious artifact that prominently figures into the Reapers' plans for galactic domination. Prior to doing so, Shepard has the option to wrap up any romances developed during the course of events as well as to finish up on other outstanding missions/assignments and/or acquire the best gear available, as this mission is the prelude to the endgame. Once it has begun, there is no turning back. more...
Not sure where to start?
Adding content
Wiki maintenance
Help us by lending a hand with one of our current projects.
Make your voice heard in our policy forum.
Clean up articles in need of attention.
Editorial help correcting spelling or grammar is always appreciated.
Know of languages other than English? Append language links on articles with translations to other tongues.
November 7, 2014 - Second N7 Day anniversary! Developer round table at twitch on 10 AM PST announced.
August 7, 2014 - Casey Hudson, long-time project director for the Mass Effect franchise, leaves BioWare.
July 23, 2014 - Issue Thirteen, the final issue of Mass Effect: Foundation, is released.
June 25, 2014 - Issue Twelve of Mass Effect: Foundation is released.
May 28, 2014 - Issue Eleven of Mass Effect: Foundation is released.
April 23, 2014 - Issue Ten of Mass Effect: Foundation is released.