Welcome to Mass Effect Wiki!
The comprehensive encyclopedia for the Mass Effect universe
2,974 articles since July 2007
Kasumi Goto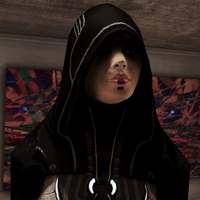 Being the galaxy's best – if not most famous – thief, Kasumi Goto is a master of stealth, sabotage, and infiltration. Few can put a name to her face, and even fewer can be a match for her skill. Kasumi is inordinately fond of her sophisticated cloaking and hacking systems to bypass most obstacles, though she's more than proficient at agile combat if the situation calls for it. Once partners (and lovers) in crime with Keiji Okuda, Kasumi lost him during a bungled attempt at stealing from Bekenstein crime figure Donovan Hock. Hock stole Okuda's graybox and killed the thief, causing Kasumi to make its retrieval one of her top priorities in life. In 2185, Cerberus extends feelers at procuring Kasumi's services for Commander Shepard's mission to stop the Collectors. If Kasumi joins the team, she may finally get the chance to take back the memories of her love. more...
Not sure where to start?
Adding content
Wiki maintenance
Help us by lending a hand with one of our current projects.
Make your voice heard in our policy forum.
Clean up articles in need of attention.
Editorial help correcting spelling or grammar is always appreciated.
Know of languages other than English? Append language links on articles with translations to other tongues.