Welcome to Mass Effect Wiki!
The comprehensive encyclopedia for the Mass Effect universe
2,976 articles since July 2007
Normandy: Serrice Ice Brandy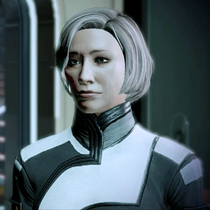 In 2185, Doctor Chakwas regrets never opening a bottle of Serrice Ice Brandy she had stashed onboard the SSV Normandy, and requests Commander Shepard to buy her another one should an opportunity present itself. If Shepard drinks with her after getting her one, Chakwas reminisces on her life choices and adventures serving in the Systems Alliance. She cannot hold her liquor compared to the cybernetic Commander and ends up passed out in her infirmary while the latter walks off with only temporary dizziness. The two make a promise to share a drink every year, and one year later she has learned not to match the Commander drink for drink if Shepard makes time for her. more...
Not sure where to start?
Adding content
Wiki maintenance
Help us by lending a hand with one of our current projects.
Make your voice heard in our policy forum.
Clean up articles in need of attention.
Editorial help correcting spelling or grammar is always appreciated.
Know of languages other than English? Append language links on articles with translations to other tongues.