Welcome to Mass Effect Wiki!
The comprehensive encyclopedia for the Mass Effect universe
2,973 articles since July 2007
Conrad Verner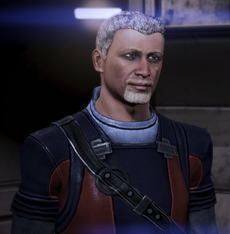 Commander Shepard's distinguished career attracts numerous fans and Conrad Verner is among them. Conrad idolizes the Commander to the extreme; if Shepard personally brushes him off, Conrad's attempts at emulating the Commander may result in graphic descriptions of his death. On the other hand, if Shepard tactfully steers Conrad's devotion into productive pursuits he may turn out to be a surprisingly useful soul. Conrad doesn't respond well to stress, to the extent he would imagine being threatened with a gun to the face even if it, in fact, did not happen. If Conrad's antics don't kill him, he gets opportunities at revealing bits of his life to his idol: he owns a "tasteful" candle-lit shrine to Shepard, he doesn't have any relatives, and he has doctorate-level education. What if you signed him on as another Spectre?
Not sure where to start?
Adding content
Wiki maintenance
Help us by lending a hand with one of our current projects.
Make your voice heard in our policy forum.
Clean up articles in need of attention.
Editorial help correcting spelling or grammar is always appreciated.
Know of languages other than English? Append language links on articles with translations to other tongues.
November 7, 2014 - Second N7 Day anniversary! Developer round table at twitch on 10 AM PST announced.
August 7, 2014 - Casey Hudson, long-time project director for the Mass Effect franchise, leaves BioWare.
July 23, 2014 - Issue Thirteen, the final issue of Mass Effect: Foundation, is released.
June 25, 2014 - Issue Twelve of Mass Effect: Foundation is released.
May 28, 2014 - Issue Eleven of Mass Effect: Foundation is released.
April 23, 2014 - Issue Ten of Mass Effect: Foundation is released.