Home
Talk

252
2,966pages on
this wiki
Welcome to Mass Effect Wiki!
The comprehensive encyclopedia for the Mass Effect universe
2,966 articles since July 2007
The Shadow Broker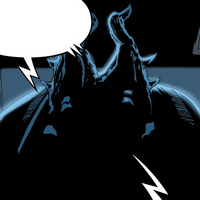 The entity known as the Shadow Broker deals in trading secrets between the galaxy's disparate factions. Possessing vast resources to fund a pervasive and insidious intelligence network, the Broker almost always knows everything about anything, but only sells out just enough information to stay afloat in the business. It takes no sides but its own, and will do business with anyone who can pay its price. Very few people know who or what the Shadow Broker is; even some of its underlings believe it is a group of people rather than an individual due to the far-reaching scope of its operations. Though the Broker has been a fixture in galactic power games for more than half a century, its identity isn't likely to be divulged to the general public anytime soon. more...
Not sure where to start?
Adding content
Wiki maintenance
Help us by lending a hand with one of our current projects.
Make your voice heard in our policy forum.
Clean up articles in need of attention.
Editorial help correcting spelling or grammar is always appreciated.
Know of languages other than English? Append language links on articles with translations to other tongues.
August 7, 2014 - Casey Hudson, long-time project director for the Mass Effect franchise, leaves BioWare.
July 23, 2014 - Issue Thirteen, the final issue of Mass Effect: Foundation, is released.
June 25, 2014 - Issue Twelve of Mass Effect: Foundation is released.
May 28, 2014 - Issue Eleven of Mass Effect: Foundation is released.
April 23, 2014 - Issue Ten of Mass Effect: Foundation is released.
March 26, 2014 - Issue Nine of Mass Effect: Foundation is released.
August 8, 2014 - Parent Page introduced as part of a Wikia effort to guide parents/guardians on the suitability of the games to their children.
July 18, 2014 - Mass Effect Wiki is now seven years old!
July 18, 2013 - Mass Effect Wiki is now six years old! Thanks to all contributors who have helped the wiki succeed!