The Mass Effect Trilogy is a special boxed set containing the games Mass Effect, Mass Effect 2, and Mass Effect 3. Featuring a premium foil box and exclusive artwork, the set was released for Xbox 360 and PC worldwide on November 6, 2012, and in Europe on November 9, 2012. The PlayStation 3 version of the Trilogy was released on December 4, 2012 worldwide, and on December 7, 2012 in Europe.[1][2]
In addition to copies of each of the three games, the Mass Effect Trilogy includes access to certain downloadable content depending on platform:[1][2]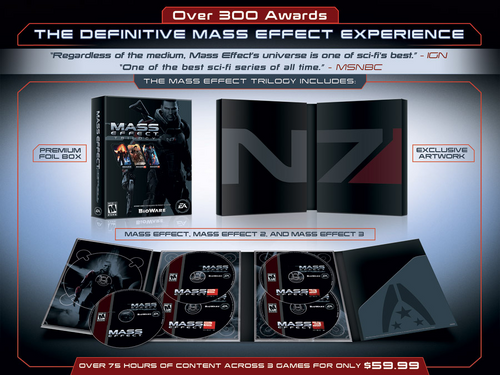 References
Edit
Ad blocker interference detected!
Wikia is a free-to-use site that makes money from advertising. We have a modified experience for viewers using ad blockers

Wikia is not accessible if you've made further modifications. Remove the custom ad blocker rule(s) and the page will load as expected.