Mass Effect 3 Multiplayer/Character Customization/Soldier
Talk

3
2,830pages on
this wiki
Soldiers are renowned for their impressive fire support, flexibility, and speed. Soldiers are masters at dealing weapon damage.
Human Soldier
Edit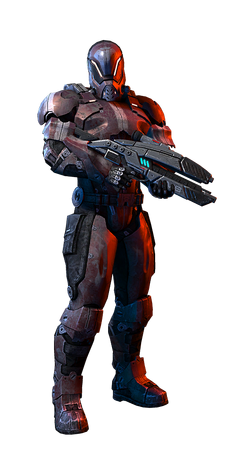 Humans joined the galactic community after discovering a Prothean data cache on Mars in 2148. Their devotion to understanding and adapting to modern warfare left the staid Council races stunned. Humanity's persistence and unflappable spirit has taken them further than anyone in the galaxy could have imagined.
Alliance soldiers are renowned for their impressive fire support, flexibility, and speed. Humans have quickly integrated new technology into their combat gear and can unleash VIs, drones, and artillery on the battlefield.
Abilities
Edit
Heavy Melee and Dodge
Edit
Omni-Blade - The Human Soldier produces an omni-blade to stab enemies.
Combat Roll - The Human Soldier rolls to quickly evade incoming attacks.
Player Notes
Edit
General Notes
A Human Soldier can use Adrenaline Rush to not only increase damage inflicted significantly, but also in some cases increase their damage resistance and even give extra shielding.
Frag Grenades are a necessity since they can kill groups of enemies at once, which overcomes the Soldier's biggest weakness - being swamped by weak enemies.
Concussive Shot is a matter of personal choice, but it can lock down single enemies or even groups, if used correctly, as well as acting as a means of setting up detonations such as Fire Explosions, or Tech Bursts.

If you wish to take Concussive Shot, the Acolyte makes for a perfect 1-2 combo. The Acolyte will strip every single man-sized opponents' shields or barriers in a single shot on Gold, and can even take some away on Platinum, while Concussive Shot then knocks said foes onto their backs. If you have a light enough load out to pump out said power every couple of seconds, you can take out all the infantry single-handedly in an extremely quick and efficient fashion, with Adrenaline Rush and a second weapon to deal with all other armored foes.

It's best to take a medium-heavy loadout approach, since Adrenaline Rush can be used quite frequently even with recharge speeds of -50% up to -70%.
If using Concussive Shot, consider a lighter loadout to make sure enemies are continually locked down by Concussive Shot, since you can use it more regularly.
With a low enough weight, a Human Soldier can use a M-76 Revenant with magazine upgrade and Adrenaline Rush to maintain a constant stream of slugs down range. This can allow Human Soldiers to do damage constantly, something no other class or race can do without powers or teammates.
Human Soldiers also have a nice synergy with the N7 Valiant, more apparent with upgrades to weapon damage or the Valiant itself, or use of gear. Even on Gold they can snipe basic troopers in one shot. With the ability to fire 6 shots in rapid succession using Adrenaline Rush, a Soldier can kill entire groups of enemies with even greater efficiency than Infiltrators. Salarian Infiltrators however are more effective than Soldiers for dealing with shielded enemies, although Soldiers can simply shoot twice and deal with any human-sized foe. Because Infiltrators do 105% extra damage with Tactical Cloak and 3 shots, and Soldiers do 70% with up to 10 shots with Adrenaline Rush and reload-cancelling a Soldier can do much more damage per second than an Infiltrator, if their cooldowns are kept as low as possible.
The Cerberus Harrier can be extremely deadly in the hands of a Human Soldier, especially when Adrenaline Rush is maxed out in favour of damage. However, this will mean that the Harrier will burn through its already small ammo reserve in a matter of seconds, necessitating frequent trips to ammo crates. A wise strategy is to save the Harrier for hardened targets, and use a different weapon for weaker foes.
The N7 Valkyrie with the piercing and extended barrel mods is an excellent weapon for the human soldier. Combined with Adrenaline Rush the human soldier can dish out massive amounts of damage when landing head shots.
Cerberus
Guardians need to be dealt with using either Armor-Piercing Rounds, piercing mods, or weapons with base piercing such as the M-98 Widow. Concussive Shot can also knock their shields away, giving you a moment to line up a quick headshot or burst from your weapon.
Guardians can also be killed if a Frag Grenade is tossed into the ground so it bounces behind the Guardian.
Consider using either a fast firing weapon when Phantoms are moving or a powerful weapon (such as a sniper rifle) for headshots when they remain in cover or are stationary.
Atlases can be dealt with in any which way you see fit, but caution should be used since they will usually blow your shields off in just one shot, with your health next if you don't find cover quickly.
A good tactic to deal with Atlases is to use Adrenaline Rush to auto-reload a weapon instantaneously — this allows single-shot weapons to do double the damage in a short space of time and for automatic weapons to keep up a continuous stream of fire.
Reapers
The heightened weapon damage from Adrenaline Rush allows weapons like the M-77 Paladin, M-98 Widow, Black Widow, or other anti-armor weapons to become extremely deadly against Brutes, Ravagers and Banshees.
Whether up close or at range, make sure you have at least one anti-armor weapon with you to combat said enemies.
For Banshees and Marauders, consider using an assault rifle or SMG, as these are most effective against their shields/barriers.
Geth
Geth are a bit of a nuisance with their Geth Hunters, Rocket Troopers, and Primes constantly stunning you, but none of their units have instant-kill moves, so Soldiers can rest easy knowing they aren't going to get impaled. That being said, the stunning can really hurt your effectiveness in combat.
Since every single enemy (Geth Troopers excluded) you encounter has a layer of shields, consider taking an anti-shield weapon such as the Reegar Carbine. The Reegar also fills the close-quarters role in case Hunters or Pyros get too close.
Consider a sniper rifle for longer ranges, for softening the shields of enemies.
Collectors
Your main strength is your gun skills. Make sure you take a sniper rifle, and a good backup weapon. An assault rifle, or the Acolyte will fill the gap nicely. And don't forget to use Adrenaline Rush as this will, as always, be your mainstay power.
Concussive Shot is great for knocking back Abominations that close in, so that their post-mortem explosions don't damage you. Collector Troopers and Captains can also be knocked back, out of their deadly melee range, but the latter needs their barriers stripped first.
Concussive Shot is also helpful for stripping barriers from Praetorians and any units that become possessed, especially in tandem with a source power for a Tech Burst.
The human soldier is uniquely suited to fighting Collectors. Concussive Shot and Frag Grenade can both be specced to deal extra damage to organic enemies, and Concussive Shot deals with barriers quite handily. With Concussive Shot specced for Shatter and Shredder, protection can be removed quickly from any enemy in the faction, and rank-and-file enemies can be knocked about with impunity. (Use Cryo Ammo or bring a teammate with Cryo Blast or Snap Freeze for best results.) With Frag Grenade specced for Bleed Damage and Armor-Piercing, large groups and hardened targets can be dispatched with relative ease. If you stack enough power damage on this character, the cumulative damage multipliers and stacks of damage-over-time can make Adrenaline Rush arguably unnecessary.
Krogan Soldier
Edit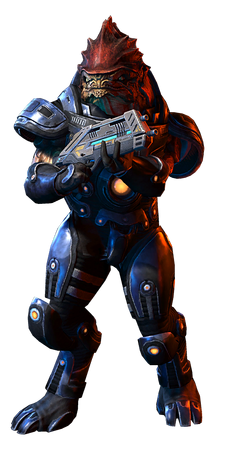 Krogan are large bipeds native to the planet Tuchanka, a world known for its harsh environment, scarce resources, and vicious predators. Until the invention of gunpowder, the leading cause of krogan fatalities was "eaten by predators." Though slow, krogan can take tremendous damage in combat, allowing them to inflict grievous harm with impunity.
Armored like a tank--and as slow as one--an angry krogan has more going for it than the species' infamous belligerence. It should come as no surprise that a krogan dishes out as much punishment as they're able to take on the battlefield.
Abilities
Edit
Heavy Melee and Dodge
Edit
Krogan Charge - The Krogan Soldier charges forward a short distance and strikes an enemy with held weapons.
Krogan Soldiers lack a dodge maneuver.
Player Notes
Edit
General Notes
Krogan are the most capable of withstanding damage out of all the races. Since they are capable of withstanding bigger hits, krogan are suited to taking on bigger enemies like Banshees, Atlases, and Geth Primes, but will suffer from groups of smaller infantry who will peck you to death with surprising speed.
Rage can improve their protection by up to 30%, and their Fortification skill can also give up to 40% protection — this makes them very resistant to small arms fire and capable of withstanding even the hardest of hits.
Alternatively, one can focus purely on raw melee damage, with certain evolutions in Fortification and Rage.

Rage can increase standard melee damage by 95%: 80% when enraged, and a further 75% when a heavy melee kills an enemy.
Fortification, when purged, can increase melee damage by up to 100%.
Several mods and pieces of equipment also increase melee damage: equip a Level V Bayonet on a shotgun or a Level V Melee Stunner on a pistol for 25% more melee damage (note that the melee damage only counts with the currently equipped weapon). As of the Retaliation DLC, the Omni-Blade attachment (shotguns) can be attached to give 30-50% extra melee damage but at the cost of increased 50 extra weight. A Strength Enhancer Weapon Bonus can boost melee damage by an additional 25, 50, or 100%. An additional 20% melee damage bonus can be gained from the Level V Hydraulic Joints Gear.
All in all, with all these benefits you can potentially increase the strength of your melees to or over five-fold what is was. This colossal boost to damage can allow you to take out any infantry with a single heavy melee on Bronze, almost all of them on Silver, and a great deal of them in just one or two hits on Gold. Be sure to purge Fortification every 15-20 seconds to maintain the additional 100% melee damage, but also make sure you re-apply Fortification to retain the 25% protection bonus.
Krogan Soldiers can also choose to focus on damage protection and Inferno Grenades. This combination (if Fortification isn't purged at all) means there are no power cooldowns to worry about, so weapon weight isn't an issue. However, Inferno Grenades are in finite supply.
Inferno Grenades are excellent for crowd control (especially against organics). Their large area-of-effect, combined with their damage over time allows the Krogan to soften large groups of enemies before rushing in for a melee spree.
While Carnage is often ignored in favour of other abilities, it may be wise to invest a few points in it if you plan on using Inferno Grenades, since Carnage serves as an excellent detonator for fire explosions.
Cerberus
Krogan can be devastating at close range, but be wary of Phantoms and Atlases. Krogan are more vulnerable to their instant-kill moves.
If going for the Fortification-Inferno Grenade loadout, load a heavy assault rifle, and shotgun for a flexible all-range outfit. Remember, you cannot move quickly, so if a Phantom gets too close try to retreat, melee her if you can, or make her try to evade you.
Reapers
Krogan can quickly tear through Reaper forces and it is tempting to run into enemy spawn. However, since krogan are slow, you should make a tactical retreat when Banshees get close since they can instantly kill you.
Brutes can be dangerous too, but they can be dealt with swiftly with an anti-armor load out, such as the Claymore with the Shotgun Shredder Mod.
Husks are great melee targets to activate Rage since they are physically frail.
Geth
Geth are a krogan's bane. Since many of the geth are capable of stunning you with melee attacks, shotguns, rockets, or pulse cannons, sticking to cover is imperative to survival. While they cannot interrupt you when you are charging them with a heavy melee, you will often take significant damage just trying to deal with one enemy. They may stop you in your tracks by interrupting you before you try the charge.
Use the same loadout as you would for Cerberus: shotgun and assault rifle, as this will give you a good all-range loadout.
Stick by your allies and stay behind something that is solid and, ideally, has a good height, to prevent them from shooting you whilst in cover.
Collectors
You will have your work cut out against the Collectors since most enemies cannot be knocked down. They can be seriously injured however, and a pure melee build will certainly prove devastating against even Scions. Steer clear of Praetorians though as their claw attacks will very quickly chew through your bulky physique.
The Fortification power needs to be switched on and off to maintain maximum melee damage. Alternatively you can keep it on you, since protection is constant, and sometimes switching it off can prove fatal.
Inferno Grenade will do the trick against Scions, and Praetorians, as well as the basic troopers, but you will first need to strip the barriers of the other enemies before it will affect the others as effectively.
Turian Soldier
Edit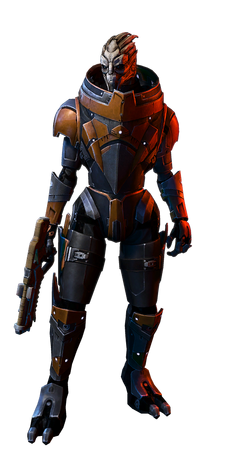 Turians adhere to a strict moral code: "The needs of the group outweigh that of the individual." Discipline is the foundation of turian society. A turian line never collapses; its troops fall back in order, setting ambushes as they go. You will only see a turian's back when they're dead.
Turians receive the best military training in the galaxy. Their proficiency with a wide range of weapons, as well as their unmatched focus and determination, make up for their lack of speed and agility. They are a redoubtable ally on any battlefield.
Abilities
Edit
Heavy Melee and Dodge
Edit
Dual Omni-Blades - The Turian Soldier generates two omni-blades and slashes horizontally.
Turian Soldiers lack a dodge maneuver.
Player Notes
Edit
General Notes
The main strength of the Turian Soldier is their ability to turn a fairly weak weapon, such as the M-9 Tempest, into a very solid weapon choice. They can improve their accuracy, headshot damage, and rate of fire, and decrease recoil to give weapons an extremely high level of damage per second.
The Turian Soldier excels with the M-27 Scimitar, as Marksman increases the weapon's fire cap, allowing the player to spam it into enemies at close range. This is incredibly effective on Bronze, as regular infantry only require two body shots to be killed.
Much like the Human Soldier, should you wish to take Concussive Shot, the Acolyte will make for a perfect 1-2 combo. The Acolyte will strip every single infantry units' shields or barriers in a single shot on Gold, and can even take all shields or barriers away on some foes on Platinum, while Concussive Shot then knocks said foes onto their backs. If you have a light enough load out to pump out said power every couple of seconds, you can take out all the infantry single-handedly in an extremely quick and efficient fashion, with Marksman and a second weapon to deal with any armored foes you should come across. Used correctly, this combo is devastating.
To get the extra mile out of the increased accuracy of the Marksman ability equip the M-76 Revenant, which normally suffers from too large a spread to be used at long range, and mod it with an Assault Rifle Stability Damper. This combines to make a very accurate high fire-rate weapon with a huge ammo clip capable of mowing down anything at any range for long stretches of time with minimal time wasted reloading.
They can also utilise either Proximity Mines to weaken multiple foes.
Turians also have higher than average shielding (750 minimum) and, thus, are capable of withstanding more damage than Humans or Vorcha. However, they are slow and cannot dodge, though they can do a cover-to-cover roll. This makes them prone to instant-kill moves.
Because they do have useful powers, it is recommended to keep to a moderate-light loadout to keep recharge times low.
Players may wish to equip a secondary weapon like the Geth Plasma SMG just to be sure they have a backup weapon should the first run out of ammunition. When the weapons are leveled up to be fairly light, the Turian Soldier can achieve great balance between powers and weapons.
The Cerberus Harrier is incredibly powerful in the hands of a Turian Soldier, especially with Marksman maxed out in favour of accuracy, and the Turian Veteran ability evolved for weapon damage and stability. This gives the Harrier pinpoint accuracy when utilizing Marksman, and the increased rate of fire will increase its already spectacular DPS. Thanks to a recent update, Marksman will now refill your magazine (like Adrenaline Rush) when activated, so the Harrier's relatively small clip size can now be circumvented by activating Marksman to refill the magazine. However, it is wise to have a backup weapon, since the Harrier has a limited thermal clip capacity.
With a Smart Choke equipped, the Piranha is a very versatile weapon in the hands of the Turian Soldier. The accuracy bonuses from Marksman will allow the Turian to use the Piranha very effectively at medium range, or even long range.
Weapons such as the Phaeston or Geth Pulse Rifle are ideal for the turian soldiers since it can use them over massive sight lines such as on Firebase Condor with pinpoint accuracy.
Cerberus
This is where Turian Soldiers excel. Their lethality against infantry enables them to kill even Phantoms in no time at all. Especially when employing the Concussive Shot strategy, where the Acolyte will quickly destroy a Nemeses or Centurions shields, or a Phantoms Barrier and leave them exposed. Concussive shot will not only hit said foes hard, but even if they survive, if one has opted for the "Shredder" evolution at rank 6, it will also disrupt a Phantoms cloak and render them very vulnerable.
Be careful around Phantoms though since they can instantly kill you more easily than some races as you cannot roll away.
A fast firing weapon (ideally with good damage), such as the Phaeston, N7 Hurricane, or M-76 Revenant, works really well here, as it can be sprayed across infantry, softening them up for allies.
While they can also kill Atlases, they take longer to kill. Use a Revenant and a Piercing Mod to ensure you can take on armoured opponents. A Cerberus Harrier, or N7 Typhoon will also fill this niche role nicely.
Reapers
Turians can have trouble with Banshees and Brutes, since they quickly close in on a player that cannot easily retreat, but Turian Soldiers are deadly against every other Reaper unit.
Consider loading out an M-92 Mantis for anti-armour, and either a Geth Plasma SMG, Hurricane, or Phaeston to destroy barriers and for general killing.
Geth
Stick to cover when you can to avoid being stunned as much by the Geth Hunters, Primes, and Rocket Troopers, as they will quickly destroy you if you let them, since you cannot dodge their attacks easily.
Since nearly all geth have shields, equip a fast firing weapon.
Optionally the player could also equip the Reegar Carbine to have a devastating close-quarters weapon.
Do not try to rush out into the open: you will be cut down very quickly.
Collectors
Much like the Human Soldier, your main power should be your unique one - Marksman. The way to equip yourself though is very different. A sniper will not gain much use from Marksman, instead focus on a powerful anti-armor Assault Rifle or shotgun, and your secondary as a power anti-barrier/shield weapon like the Acolyte.
Proximity Mine will soften up enemies struck by the mine, or slow them down. It will however stop you from being able to use Marksman, so you will have to make the judgement of more firepower, or softened targets for your team and decide which benefit is greater.
Concussive Shot will only serve its usefulness against Abominations, unprotected Captains, or Troopers.
Battlefield 3 Soldier
Edit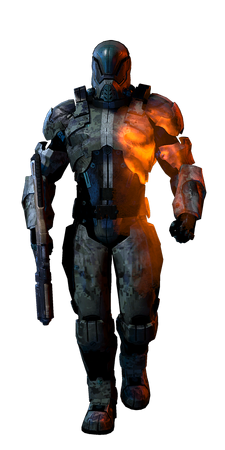 Humans joined the galactic community after discovering a Prothean data cache on Mars in 2148. Their devotion to understanding and adapting to modern warfare left the staid Council races stunned. Humanity's persistence and unflappable spirit has taken them further than anyone in the galaxy could have imagined.
Alliance soldiers are renowned for their impressive fire support, flexibility, and speed. Humans have quickly integrated new technology into their combat gear and can unleash VIs, drones, and artillery on the battlefield.
Abilities
Edit
Heavy Melee and Dodge
Edit
Omni-Blade - The Battlefield 3 Soldier produces an omni-blade to stab enemies.
Combat Roll - The Battlefield 3 Soldier rolls to quickly evade incoming attacks.
Player Notes
Edit
General Notes
Battlefield 3 Soldiers should be considered exactly the same as the standard Human Soldier. The only real difference is that Carnage replaces Concussive Shot.
Considering the lack of damage Carnage typically has, it is best to forego it. As such, a moderate-heavy loadout is the best option to give you a good weapon-Adrenaline Rush ratio.
Despite the Carnage's shortcomings, it can be used to greater effect than Concussive Shot as a powerful detonator power for Fire Explosions or Tech Bursts. In addition, with its Rank 5 Incapacitate evolution, Carnage can gain the knock back effect of Concussive Shot against a single target. Carnage can also be arced over cover to damage otherwise-protected enemies without using grenades.
Since the Mass Effect 3: Retaliation update, fire explosions can be triggered like biotic detonations or tech bursts. Carnage can potentially have a very quick reload time, and it can be the setup power for a fire explosion. Cooperating with a squad mate using a detonator power makes for repeated high-damage fire explosions. Alternatively you can throw a grenade directly on the lit up enemy to cause an instant Fire Explosion though this requires some practice but can pay of against armored enemies.
Since the Battlefield 3 Soldier does not have Concussive Shot, you should be slightly more cautious as you have no way to knock enemies back so you can retreat without the Rank 5 Incapacitate evolution of Carnage. Aside from that, you should once again treat the Battlefield 3 Soldier's tactics the same as the normal Human Soldier.
A Frag Grenade specced for damage can outright kill most trooper/infantry enemies on Bronze and Silver difficulties.
Play to your strengths and use grenades to get rid of any lesser enemies before helping your allies bring down the big enemies. Learn the location of ammo boxes so you can top up your grenades and ammo, as the Soldier uses large amounts of both.
Picking a good weapon is essential. The Battlefield 3 Soldier has powers that benefit from a low recharge time, but he will also spend a lot of time shooting. A balance of damage, ammo capacity, and low weight must be reached.
As Carnage does massive damage against armor and health but considerably less against shields and barriers, the Rank 6 Shield Overload evolution of Frag Grenade may be a good idea (although do note that it does not inflict extra damage to barriers). Alternatively, taking an anti-shield/barrier weapon such as the Reegar Carbine, Talon, or Acolyte will compensate for Carnage's shortcomings.
With Adrenaline Rush evolved defensively (the Rank 4 Hardening and Rank 6 Shield Boost evolutions), the Battlefield 3 Soldier can take a substantial amount of damage while Adrenaline Rush is active. It may be worthwhile to skip Fitness so all powers can be maxed out (as the Rank 4 Hardening evolution alone allows the Soldier to take more damage under Adrenaline Rush than without Adrenaline Rush and maxed-durability Fitness) or to evolve Fitness for durability, allowing the Soldier to take an extreme amount of damage for brief periods.
Cerberus
The Battlefield soldier's powers have some advantage over Cerberus. Carnage can be used to distract enemies by setting them on fire, and flush them out by arcing it overhead. Frag Grenades can be used to thin the ranks of Cerberus Troopers and some of the more fragile shielded varieties, such as Engineers and Nemeses, but the Soldier will still spend lots of time pulling a trigger. Be wary of guardians; outside of landing a grenade just behind them, or shooting through their shield by some means, the Soldier doesn't have any special way to handle them.
Reapers
Carnage fares better here. Most enemies have either armor or health, so the burn DoT effect is more useful. Frag grenades are good against Cannibals and Husks. Carnage is also good against Ravagers, and has enough of a splash radius to help kill the resulting Swarmers.
Geth
All Geth units but the basic trooper have shields, so the Soldier lacks any innate advantage against them. The best way to go is to keep using Adrenaline Rush and try to gun them down. Drop a grenade at your feet when they're in close to give you some breathing room and be wary of being flanked by pyros or hunters.
The Rank 6 Shield Overload evolution of Frag Grenade will significantly enhance your ability to deal with geth, as it will tear through their shields and no geth have biotic barriers (which the Shield Overload evolution does not deal extra damage to).
Collectors.
Much like the Reapers, the Soldier fares well against the Collectors. Grenades will kill or severely weaken Collector troopers and captains, and Carnage helps soften up Scions and Praetorians, and sets up fire explosions for teammates to trigger.
Both Praetorians and Scions, while tough, have the disadvantage of being large enemies and hard to miss. If all else fails, turn on adrenaline rush and shoot them as much as you can while retreating and maneuvering around cover and try to whittle them to death.
Batarian Soldier
Edit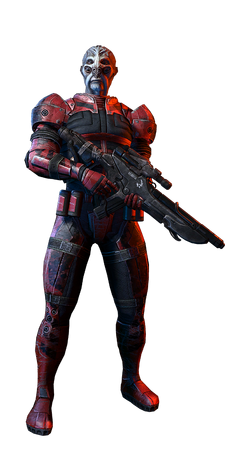 Little is known about the batarian homeworld of Khar'shan or its inhabitants. As a result, the race is judged by those whom the Hegemony allows to travel beyond its borders: organized crime enforcers, pirate boarding parties, slaver gangs, and gladiatorial combatants.
Batarians are large brawlers that use nets and spiked weapons to capture targets...or to bleed them dry on the battlefield. If an opponent gets too close, a batarian enforcer bludgeons them with spiked armor and enforcement gauntlets.
Abilities
Edit
Heavy Melee and Dodge
Edit
Enforcement Gauntlets - The Batarian Soldier winds up a powerful punch with an omni-tool gauntlet.
Batarian Soldiers lack a dodge maneuver.
Player Notes
Edit
General Notes
With Ballistic Blades, Batarian Soldiers are lethal at close-quarters, capable of dealing with any enemy, but they are ineffective at range unless using appropriate weapons. Ballistic Blades can be thought of as a shotgun with a cooldown. A build utilizing Ballistic Blades as often as possible should aim for a low cooldown.
Builds utilizing only Blade Armor and Inferno Grenade have no need for low cooldown times unless the player is attempting to reactivate Blade Armor after deactivating it.
Batarians are unable to evade, making them more vulnerable to instant-kill moves.
Note also that while batarians are actually faster than regular humans, they are also less defensible than krogan. They are more vulnerable to staggering attacks like Geth Prime pulses and Geth Hunter shots as a result, but are still more reliable for delivery and drone escorting operations than drell or krogan, having more or less the movement speed of the former, and the similar durability of the latter.
When evolved for Radius, Inferno Grenades can have a massive area of effect. This can be used to quickly kill the weaker enemies in a group, and prime the tougher ones for a devastating Fire Explosion. However, the Batarian cannot detonate these combos by himself.
Cerberus
A piercing or shredder mod is recommended to deal with Guardians. Ballistic Blades may substitute for a shotgun, allowing a greater diversity in weapon choice.
Phantoms are agile opponents. Attempting to simply melee them is not recommended due to the batarian's inability to roll.
However, using Ballistic Blades to stun the Phantom and then immediately following with a heavy melee makes fighting Phantoms quick and easy. Keeping Blade Armor active will ensure maximum melee damage and an effortless counter to the Phantom's sword attacks.
Reapers
Many Reaper units are either armored or unprotected. Anti-armor weapons along with Ballistic Blades can quickly deal with them. Inferno Grenade is also useful here.
Geth
Close-quarters engagements on geth are not recommended; they can flank players and stun them with melee attacks, opening them up to attacks from other geth units.
Batarians, like other races with restricted movement, are especially prone to being staggered by shots from Hunters and Primes.
Inferno Grenades are useful for revealing Geth Hunters, whose cloaks will be broken by the damage over time effect.
Collectors
The Batarian Soldier's heavy melee attack destroys an enemy's head on a kill, making it a possible means of eliminating Possessed Abominations. However, its slow attack speed and lack of movement makes this a risky tactic.
As with Reaper forces, Collector forces have primarily health or armor for defense, making Inferno Grenade useful.
Ballistic Blades is very effective for simultaneously dealing with Collector Captains and any Seeker Swarms they spawn in a single shot.
The Collectors always strike and deal damage with their melee blades twice, but Blade Armor will cause the enemy to stagger back after dealing their first blow, thus preventing them from dealing the full damage of both strikes. This allows a batarian a good close quarters advantage against the Collectors over other races.
Vorcha Soldier
Edit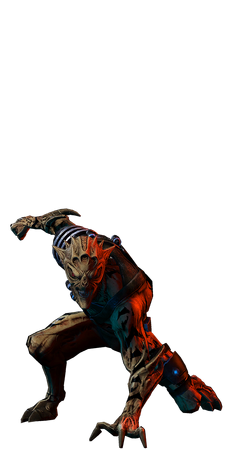 Vorcha are considered vermin by other species inhabiting Citadel space, but their unique physiology and innate aggressiveness make them shockingly durable combatants.
A vorcha's resilience and malleable DNA allow them to evolve and adapt to any situation, making them formidable opponents on the battlefield. Their lightning-quick pounce is a direct result of their societally ingrained bloodlust.
Abilities
Edit
Heavy Melee and Dodge
Edit
Vorcha Pounce - The Vorcha Soldier leaps toward an enemy and slashes with omni-tool claws.
Vorcha Pounce - The Vorcha Soldier leaps away from incoming attacks on all fours.
Player Notes
Edit
General Notes
Bloodlust can be triggered by any kill. Each Bloodlust stack lasts only fifteen seconds, which forces Vorcha to constantly kill in order to keep the maximum bonuses that Bloodlust offers.
Melee combat should be approached carefully. Vorcha can be killed when attempting heavy melee against stronger enemies or large groups. Misjudgment of health in enemies with instant-kill abilities will place you within lethal range for these attacks. That aside, it is among the fastest heavy melee attacks in the game. It closes distance to the target like a krogan's charge, though it is easier to aim at close ranges. Thus, between melee damage evolutions from Bloodlust and Fitness, one can move rapidly from target to target, shredding enemy infantry. That being said, make sure you have a close quarters weapon so that you may backpedal and regain your composure if things get a little too hot. Banshees should be avoided, since they can execute you very easily if you try to melee them.
Though it will limit your long-range capabilities, consider dropping Carnage for Fitness. With Fitness ranked for defence and the health-regeneration bonuses from Bloodlust, the Vorcha Soldier can negate the damage from all but the most concentrated attacks, even withstanding whole volleys from Ravagers and shrugging off the Brute's melee. If building a close-range vorcha, use this method to improve survivability to its maximum.
Flamer is an extremely powerful tool at short range. With damage-increasing evolutions, Flamer will burn down whole infantry squads if the stream of fire is spread throughout the group. By the same token, there's not many enemies in the game that can withstand a concentrated Flamer attack. This makes the vorcha a great choice for taking on such 'boss' enemies as Brutes and Scions. Just be wary of enemies with both high health and some form of extra protection, like Atlas mechs and Banshees.
Though Flamer is usually evolved to deal extra damage to armor, it is also viable to take the Rank 6 Shields and Barrier damage evolution instead. This is especially useful against Cerberus forces, since it will quickly strip the shields off Centurions, Combat Engineers, Nemesis, and Phantoms. Furthermore, when stripped of their shields, most Cerberus troops will panic, making them easy prey. It is somewhat less effective against Geth, since synthetics do not panic, but since almost all enemies have some form of shielding, it gives the Vorcha some added versatility when dealing with this faction
Consider taking the N7 Hurricane with this class. The movement speed and regeneration provided by Bloodlust allow the player to get close enough for the Hurricane to be effective at stripping shields, making them easy prey for Flamer.
Cerberus
Flamer's high-damage evolutions can kill groups of unprotected Cerberus units very quickly at close range. Against Phantoms and Atlases, caution should be used since, on higher difficulties, they can easily inflict more damage than you can handle. It is when engaging these kinds of enemies that you should consider staying close to teammates.
Opt for a weapon with innate penetration, or use a piercing mod on one of your weapons to make sure Guardians don't get the edge on you.
Reapers
Flamer's high-damage evolutions can effectively kill groups of unprotected Reapers, due to the majority of enemies having armor or just health. With the Armor Damage evolution for Flamer and both health regeneration evolutions, the Vorcha Soldier is capable of taking down Ravagers and Brutes easily.
Focus on close-range engagements against large clusters of light infantry, and seek fire support from your team when up against Banshees.
The green acid puddle that Ravagers release upon death deals minimal damage to the vorcha, provided that Bloodlust stacks are still active.
Geth
Flamer's high damage evolution can quickly kill groups of unprotected geth units, as it does very high damage to armor. Otherwise, all geth (except Geth Troopers) have shielding protecting themselves from any flame attacks. Equipping an anti-shield weapon such as the Reegar Carbine or Acolyte may help.
Flamer should not be used on Geth Pyros. On higher levels, they can kill you quicker than you can kill them.
The geth are "hard-hitting" specialists and will drop vorcha's health quicker than they can regenerate, especially when being attacked by multiple enemies at once, so a "cautious but aggressive" approach would be best here.
Collectors
Be very careful when fighting Collectors with the vorcha because the Collectors are ranged specialist and can deplete your shields quickly from range.
Flamer's extra burning evolution will be very useful at staggering the Collectors. When they are staggered you will have a chance to run away or just right away kill the enemy. Using this tactic will be useful on small enemies (Collector Captain, Collector Trooper) but be cautious when using this on Scions and Preatorians because these enemies will be hard to stagger and have an advantage at close range.
N7 Destroyer Soldier
Edit
These soldiers are the go-anywhere, fight-anything special forces of the Alliance that were trained at the Interplanetary Combatives Academy in Rio de Janeiro, Brazil. They had to survive combat situations "in an admirable and effective fashion" to receive the N7 rank. Many N7s now train other species in anti-Reaper asymmetric warfare.
The Destroyer's T5-V Battlesuit gives these strong-but-slow soldiers mech-like protection. Driven by eezo-assisted actuators, these frontline troopers carry heavy weapons onto the battlefield.
Abilities
Edit
Heavy Melee and Dodge
Edit
T5-V Battlesuit - The N7 Destroyer Soldier stomps the ground, sending nearby weaker enemies flying.
Combat Leap - When Devastator Mode is inactive, the N7 Destroyer Soldier jumps to the right and shuffles to the left to evade incoming attacks.
Player Notes
Edit
General Notes
The Destroyer's only power that operates on a cooldown is Devastator Mode. This allows the Destroyer to ignore recharge speed bonuses with respect to weapon loadout or any mod that increase the weight of the weapon.

Devastator Mode properly evolved with fire rate, clip extension, and damage makes the M-77 Paladin a devastating weapon on any difficulty. It grants six rounds per clip, a fire rate comparable to the M-6 Carnifex, and allows for two-hit kills.
Evolved to improve stability and rate of fire, Devastator Mode can minimize the two greatest minuses of Striker Assault Rifle, which proved itself very effective against armored enemies and large groups (though using a piercing mod is not recommended as it seems to do minimal effect). With anti-shield weapon such as Acolyte or Reegar Carbine you can quickly destroy any enemy.
With Devastator Mode evolved to improve weapon accuracy at Rank 4, a Destroyer equipped with a heavy, high-recoil assault rifle like the M-76 Revenant or N7 Typhoon modified with a Stability Dampener can put a constant stream of bullets downrange with nearly pinpoint accuracy.

The Hawk Missile Launcher ability, while named so, acts more like Concussive Shot. It is unaffected by weight, which can be an advantage or disadvantage depending on if you have heavy or light weapons. It has the damage comparable to Concussive Shot only, however it has the same or a more powerful stagger ability, and can be quite effective against Phantoms, or enemies in cover. Despite the description saying it will take half of your shields, the Missile Launcher will only drain 500 shielding or 350 if evolved. This is because the Missile Launcher will calculate its shield drain off the class' base shield of 1000, not after it has been modified with upgrades from Fitness and Devastator Mode.

Deactivating the Missile Launcher at mid-to-close range is recommended because this class is arguably most dangerous within heavy weapons and grenade ranges.

The Destroyer often works best as continual heavy fire support for other units as the player closes the gap toward tougher targets. Due to the shield penalty of the Hawk Missile Launcher and the movement penalty of Devastator Mode, the powers synergize the best when the player can trade one for the other once moving from long to medium distances.
The Destroyer's regular melee attack is effectively any other Soldier's heavy melee attack and takes about as long to execute, but restricts the tracking of/movement towards the target. The regular melee attack has a small cone in which it can hit additional targets in front of the player with reduced damage. The heavy melee is a much faster ground stomp with an area of effect which can knock unshielded enemies to the ground, rendering them helpless (the effect being similar to Human Vanguard's Nova).
Because the Destroyer cannot evade forwards or backwards, or at all while in Devastator Mode, he is often more vulnerable to attacks from Phantoms and Banshees, as is the case with krogan, turians and batarians. The Destroyer makes up for this with some unusual stagger resistance, but only when employing Devastator Mode. Actions can be performed even after just being grazed by a Phantom sword swipe or hit by an Atlas missile.
Because the Destroyer is the slowest of all characters when Devastator Mode is active, cover should be used wisely. Even though the Destroyer has high shields, on Gold and Platinum enemies can shred through shields and expose your health which is quite low compared to other "tank" characters, plus the Destroyer lacks damage reduction passives. Also, using the Missile Launcher power will cut your shields by 500 points, making you all but a slight distraction to the enemies in the way of your tougher teammates.

Because of that, one can drop Hawk Missile Launcher and invest on the other powers in order to maximize his damage and survival, making the Devastator more suited to deal with harder enemies from Gold and Platinum.

When equipped with the Cerberus Harrier and appropriate fire rate modifiers and additional damage modifiers, the N7 Destroyer becomes a force to be reckoned with. It's an ultra rare weapon and has a low magazine capacity on top of firing full auto so you will need to stay near or be with in reach of ammo stockpiles. Because of the high damage output combined with Devastator Mode and the fire rate mod, the combination allows you to engage and kill targets very quickly. It is also an excellent choice when fighting the toughest enemies: such as Brutes, Banshees, Atlases, Scions, Praetorians and Ravagers.
When used properly, Multi-Frag Grenade can be a very devastating tool. If properly upgraded and combined with the war fighter package (assault rifle damage and 1-2 extra grenades) the grenade attack will devastate multiple enemies and is an effective tool for wearing down armor on Brutes, Banshees, Atlas, Scions, Praetorians, and Ravagers.

If upgraded the grenade attack can launch up to 3-5 grenades every time the corresponding key is pressed (3-6 grenade capacity if properly equipped and upgraded) at the cost of one, allowing the Destroyer to rain down death from above.
It is also an excellent tool when attempting to reach a fallen squad mate. The multiple explosions often stagger enemy combatants and prevent them from executing fallen squad mates.
Finally, the grenades make for a good counter measure if you're cornered. Aiming at the ground will mow down the enemies around you; if you're being pressured by larger enemy--such as an Atlas or Brute--unloading the grenades at point-blank range will detonate every grenade on that enemy, for massive amounts of swift damage. An upside to this tactic is that it will often stagger enemies, preventing them from using their instant-death attacks.
Cerberus
The Destroyer is very effective against Cerberus. The only problem you will encounter is with Phantoms when they close on you. If you can keep them at a distance you shouldn't have much of a problem. If all else fails the N7 Piranha is devastatingly effective against foes in close-quarters, especially when employed with Devastator Mode. The damage, rate of fire, and accuracy gained allow the Devastator to inflict heavy damage on any difficulty extremely quickly.
The Missile Launcher will help you counter Phantoms by forcing them to dodge or stagger often during the fight. As long as you can give yourself enough time until the next shot goes off, they will have a hard time reaching you. If they do reach you or are about to, it is advisable to stagger her with a heavy melee then blast the ground near her with Multi-Frag Grenade as it deals a tremendous amount of damage or outright kill her.
Reapers
As with Cerberus if you have the right loadout of weapons and equipment you will do well against the Reapers. The Destroyer actually excels against Brutes as long as you aim for the Brute's unarmored parts.
Watch out for Banshees as their one hit kill moves are hard to dodge with the Destroyer and are generally hard to take down no matter what class you're using.
When a Banshee is chasing you down, it would be a great idea to turn the Devastator Mode off so that you can backpedal from a banshee faster. This helps greatly in avoiding their one hit kill move. If the Banshee is far away from the player or going after someone other than the Destroyer, then the Devastator Mode should be turned on to benefit from weapon bonuses.
Geth
The Destroyer can fight the geth just as well as the other two factions, since his chances of success depend heavily upon the weapons he's using. It is recommended that you stick with the Reegar Carbine and also use some type of hard hitting assault rifle like the N7 Typhoon or the Cerberus Harrier. The geth for the most part will fall before your hail of bullets and only the Geth Prime will end up being a problem. Should you keep your distance and stay behind cover, Primes shouldn't be a problem either. This is especially true since the Geth's main strength, is being able to stagger/stun you, when Devastator Mode is activated, you become immune to all forms of stun and stagger. This eliminates the Geth's only real means of taking you and (if done correctly) your squad down. When the others are unable to act, you will be dishing out the damage right back at the Geth, and since the Geth have no instant-kill moves, the Geth can be rendered helpless.
Collectors
Multi-Frag Grenade is very useful against Praetorians and Scions.
The Hawk Missile System can help you out in a pinch if you spec it out correctly, while causing minimal penalties, and will greatly help against tougher foes or groups of weaker opponents.
Your weapon choice once again will be the main defense against Collectors.
Turian Havoc Soldier
Edit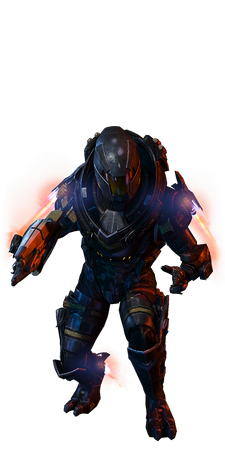 Turians adhere to a strict moral code: "The needs of the group outweigh that of the individual." Discipline is the foundation of turian society. A turian line never collapses; its troops fall back in order, setting ambushes as they go. You will only see a turian's back when they're dead.
Havoc soldiers are a part of the turian's lethal 26th Armiger Legion, a respected and feared frontline assault squad. On the battlefield, the 26th use propulsion packs built into their armor to launch lightning-quick airstrikes on unsuspecting foes.
Abilities
Edit
Heavy Melee and Dodge
Edit
Dual Omni-Blades - The Turian Havoc Soldier jets towards an enemy and slams the ground with dual omni-blades.
Propulsion Packs - The Turian Havoc Soldier jets a short distance to evade incoming attacks.
Player Notes
Edit
General Notes
The Havoc Strike functionally operates like a Vanguard's Biotic Charge or an N7 Shadow's Shadow Strike by launching the player towards the targeted opponent. It also has an area affect, like Nova, so that multiple enemies surrounding the target will be affected.

However, Havoc Strike will not replenish shield strength, and additionally, Havoc Strike provides no immunity frames during the attack process.
Havoc Strike can often place the user into dangerous situations if care is not taken, and if the circumstances are seen in advance, using Havoc Strike becomes an unwanted choice; however, if one uses a backwards dodge maneuver at the right time in the Havoc Strike process, as soon as the user comes out of the Strike, the user will immediately use the backward Jetpack dodge maneuver and move a long distance back, far away from the position (he or she) charged into. Due to the Jetpack dodge being so lengthy in distance, you can get a Havoc Strike in to stagger and damage enemies, and end your move far away from Sync-Kill ranges, and dangerous enemy clusters, resulting in minimized threat.
Ordinarily, Havoc Strike is a high-risk-high-reward power, but Stimulant Pack compliments it well by reducing the tactical danger of the power animation ending with one in close range of enemies. Even though the Havoc Strike does not replenish shields, the Stimulant Pack may be activated at any time, and increases both durability and damage output.
Havoc Strike's damage is not boosted through Fitness melee training, since it counts as a Tech Power.

The Havoc Strike followed by heavy melee works very similar to Charge + Nova combo of Human Vanguard. With correct evolution it can be very effective against powerful protected enemies, like Phantoms or Geth Hunters.
If the player mistakenly enters a dangerous situation (eg. through Havoc Stike), the player can activate the Stimulant Pack and retreat using weapons fire until finding cover or recharging powers. The long distance of dodge maneuvers compliments Stimulant Pack well in this situation.
The Stimulant Pack ability benefits from grenade upgrades. While the player may only have them in finite supply, they can be replenished at ammo crates and, like grenades, be used regardless of power recharge levels. Upgrades allowing players to carry additional grenades will also boost the number of stimulant packs that the player can carry, giving the Havoc Soldier considerable staying power in a firefight. It is also very effective when used against isolated foes, where they will be stunned, you can then deploy a pack to recover your shields if necessary and gain a damage bonus.

Stimulant Packs have a similar brief damage immunity as the Ops Survival Packs. This was meant to combat frustrating moments when lag would allow players to still die when using stim packs because of Shield and Health Gate cooldowns. It should be noted that the damage immunity in no way protects from sync-kills.[1]

For cautious players, use either the area-effect evolution of Cryo Blast or a fast-firing assault rifle with Cryo Ammo to slow down unprotected groups, then launch with Havoc Strike to finish them off.
The Turian Havoc's lack of any real means of taking down shields and barriers make the Acolyte a good weapon to use. The Acolyte's small explosion radius makes it possible to launch it in a group target, as strong as Phantoms (even on Gold if Incendiary Ammo or any power damage booster is used), and then immediately use Havoc Strike, evolved for damage and AoE and points in power damage, will result in a maximum of three threats being eliminated.
The Turian Havoc's heavy melee is a leaping strike that has one of the longest movements of any heavy melee. It also has a relatively quick recovery time. These two traits make it useful for quickly dashing across open ground when carrying an object during Retrieval missions.
The Havoc Soldier's dodge maneuver uses his jump jets to propel himself in the chosen direction. It's got one of the furthest distances of any dodge maneuver, but care should be taken as the animation is on the slow side.
Cerberus
Cryo Blast will prove very effective against Assault Troopers, or unshielded Centurions, Engineers, or Nemeses. It can also soften up the Dragoons or Atlases, or slow down the Phantoms and make them more vulnerable.
Havoc Strike will help you escape if there is an isolated enemy in a favorable position. Nemeses are good candidates for this.
The Dodge Havoc soldiers can do, is particularly useful for evading Atlases or Phantoms instant kill moves, something no other turian is capable of.
Geth
You will have trouble dealing with the geth due to a lack of any anti-shield powers, but an anti-shield weapon can help this problem somewhat.
Cryo Blast will be very effective against almost any foe, weakening and slowing or freezing most foes. Make sure you stay alert though or you may end up swamped.
Be on the lookout for Hunters which can stun, and Bombers which can blast you and your team back to the stone age. These will be your biggest problems, and need to be dealt with swiftly.
Reapers
Reapers are without doubt your best faction, Cryo Blast affects every enemy in one way or another, either freezing, or weakening them.
Havoc Strike should not under any circumstances be used against Banshees, as you will end up being on the receiving end of a fatal counterattack - an impalement.
Equip an Anti-armor weapon to aid you in battle. While it would be nice to have an anti-shield weapon only 2 enemies have shields/barriers, the Banshee and Marauder, the former is slow and armored too, while the latter can be frozen, or sniped in one clean shot upon stripping shields.
Collectors
A difficult faction as Praetorians are deadly at range and up close due to their fast claw attacks. Avoid charging them at all costs, as it'll do more harm than good.
Anti-armor weapons are needed against Praetorians and Scions, and an anti-shield weapon for every other foe. Troopers and Abominations are the only enemies without protection, as such they can be eliminated as a threat rather quickly. But the other enemies need to be dealt with as each on their own is dangerous, Captains summon Swarms, Scions hit hard, and Praetorians are extremely versatile and deadly.
Geth Trooper Soldier
Edit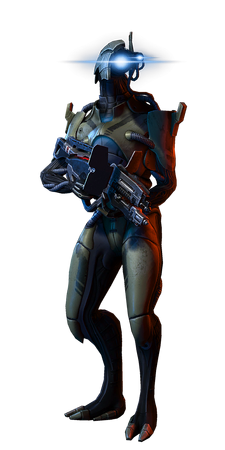 The geth are a humanoid race of networked AIs that were created by the quarians 300 years ago as tools of labor and war. Having since won their freedom from their creators, the geth have proven they are able to reason, analyze situations, and deploy tactics as well as any organic race so long as they remain networked with other geth.
Abilities
Edit
Heavy Melee and Dodge
Edit
Shield Pulse - The Geth Trooper Soldier generates pulses of damaging energy at the expense of shield strength.
Geth Hop - The Geth Trooper Soldier jumps out of the way incoming attacks.
Player Notes
Edit
General Notes
Be wary of attacks that stop shield regeneration, such as a Banshee's Reave, or a Pyro's Flamethrower. The Geth Trooper has a large amount of shields, more than other Geth, but very little health, just like other Geth. On higher difficulties this can mean if your shields go down, you do, too.
Geth Melee is extremely strong and activates across an area, and Fortification increases Melee Damage when deactivated by as much as 100%. The effect is set to last as long as 20 seconds, so with a low enough recharge speed, you could feasibly deactivate it every 20 seconds to reestablish the bonus, then reactivate it as soon as possible to regain the Damage Reduction quickly, while retaining the damage bonus. With how the Geth Melee drains shields, and the Geth's low health, this reactivation of Fortification's Damage Reduction is very helpful.
With Fortification maxed out in favor of damage reduction and shield regeneration, and Advanced Hardware maxed out for durability, the Geth Trooper can have 1650 shields, with 40% damage reduction, and take more than 2350 damage before its shields break.

Add in a Cyclonic Modulator, and that becomes even more extreme. A Cyclonic Modulator III will add 100% more shields, for 2650 shields, allowing the Geth Trooper to take more than 3750 damage.
A Cyclonic Modulator IV will add 150% more shields, for 3150 shields, allowing the Geth Trooper to take 4500 or more before its shields break.

This is not even considering the 40% shield regen bonus, which allows shields to start regenerating 40% earlier.

Shield regeneration can be further increased with an Omnicapacitor and Shield Power Cells for a maximum 85% shield regen bonus. With such a high bonus, shields begin to regenerate almost instantly after you stop taking damage. This does not make you invincible, however, so care is still required. With the Shield Gate cooldown mechanic[2], even if your shields start regenerating quickly, it may not regenerate enough by the time enemies start damaging you again to save your life.
When inside of a defensively-specialized Biotic Sphere, shield recharge delay will hit 110% and will regenerate constantly with no delay. This also includes up to 80% damage reduction. When in cover, the Geth Trooper Soldier will become almost invulnerable.

Unlike most other kits with a strong ability to take massive amounts of damage in stride, the Geth Trooper retains his ability to dodge while maintaining massive levels of shields. So on top of being able to take 3750 or 4500 damage or more before your shields break, if one is in danger of dying as a Geth Trooper, one can also utilize dodges and evades to get away quicker and more effectively, being far more erratic and difficult to track.
One could forego Hunter Mode because of the cost of half of your base shields. While the 17.5% maximum damage bonus can be useful, losing 500 shields whenever active can drastically decrease your endurance.

Comparing Hunter Mode's 500 shield penalty to the above tactic of maxing out Fortification Durability, Advanced Hardware Health & Shields bonuses, and using Cyclonic Modulator consumables and Gear, Hunter Mode's 500 shield penalty can be overridden by 50% of a Cyclonic Modulator IV, with a 100% shield bonus further in the positive direction on top of that. Additionally, with Advanced Hardware maxed for Health & Shields, you can have Hunter Mode active while still retaining a 150% bonus to shields. Fortification's damage reduction effects aren't strong enough to cancel the 500 shield penalty by itself, it would take 50% damage reduction to do that, but it can make it less noticeable.
With the above technique of maxing out health, shields, and durability, while Hunter Mode is active, a Geth Trooper can reach 2650 shields with 40% damage reduction, allowing one to take more than 3750 damage before its shields break. Combined with the ability to see through walls for tactical awareness, faster movement speed up to 20%, and a damage bonus up to 17.5%, and the Geth Trooper becomes an extremely versatile character, and an extremely tank-like one, at that.

Overall, Flamer is an extremely damaging and potent power, but is most effective against health and armor. If available, it should be used to deal with armored targets.

There is a DoT effect after you stop using Flamer on an enemy, so when using it on an enemy who is nearly dead, unless they pose an immediate threat to your survival, deactivate or redirect Flamer and let the DoT finish them off.
With Fortification's Rank 5 30% power damage bonus, Hunter Mode's 15% power damage bonus and 17.5% damage bonus, and 45% passive power damage bonus, the Flamer on Geth Trooper is much more lethal than those on Vorchas. A fully damage spec-ed Flamer can reach 600+ DPS with all those bonus (200 is the base DPS), compared to 400+ on a Vorcha, and if armor damage is chosen, you'll be dealing 1200+ per second on armor. That's without including any bonuses from gear and equip.

Since you do not have a power which is specifically effective against shields or barriers, it may be wise to bring along the Acolyte or Reegar, or any other weapon specifically effective against those defense types. This will help provide a more balanced build which can combat a wider variety of enemies.
Because Fortification and Hunter Mode are both passive abilities that do not need to be turned on and off frequently, the Geth Trooper can be built to without Flamer so it can carry a heavy weapon loadout with no penalty, so long as neither power are deactivated. Considering that the unique cooldown system of Flamer is shorter or longer depending on how long it is held, the Geth Trooper does not suffer as much from a heavier loadout, even while using it.
Considering the Geth Trooper's excellent Heavy Melee, Fortification melee damage boost, high shields and durability when combined properly with Fortification, Advanced Hardware, and Consumables, and low repercussion from heavier weight loadouts, one could easily equip a lighter-weight shotgun with the Omni-Blade attachment, and even the High-Velocity Barrel, spec Fortification for maximum Damage Reduction, Shield Regen Delay, and Melee Damage bonuses, Hunter Mode for Damage Bonuses or Movement Speed & Vision Range, and Advanced Hardware for fitness, and utilize this stacked list of abilities to tank for allies at enemies' feet with Heavy Melees and shotgun usage. Combined with the fast movement speeds and unique ability to dodge effectively while built this way, if a Geth Trooper is in danger or is getting close to being in danger of dying at the feet of enemies while tanking, the Trooper could utilize dodged and maneuvers to evade away more effectively than other tank-types.
With the bonuses to geth weapon damage from Networked AI, coupled with its high headshot damage multiplier and steady aim, the Geth Pulse Rifle becomes an excellent choice of weapon for the Geth Trooper. It is more effective in the hands of a geth than any other race, and the Trooper's Fortification ability allows it to take more fire than other geth before having to recover shields, letting the Trooper take greater advantage of the Pulse Rifle's enormous magazine capacity.
Cerberus
Reapers
Flamer can be used to deal with any foe effectively, even Brutes and Banshees. You will have the most trouble with Marauders and Banshees due to their Shields and Barriers, but an Acolyte, or team with weapons or powers effective against those defense types can help balance the odds against such enemies.
Be wary of Banshees and Ravagers, since they possess attacks that can halt your shield regeneration, leaving you an easy target for other enemies.
Geth
You will struggle against the Geth unless the shields and barrier damage rank 6 evolution is picked for Flamer, or you carry an anti-shield weapon, since every enemy except one has at least some form of shielding and/or armor. Hunters, Rocket Troopers and Primes will also give you no end of trouble if you don't pay attention, as they can stop you from using powers. However if you are already using Flamer, they CANNOT interrupt you. This makes you less susceptible to stuns if used correctly.
Flamer can be used to deal with the Geth Pyro and Geth Prime as well as the Geth Bomber, specially if upgraded for more range.
Collectors
Flamer can help deal with armored targets, such as the Scion and Praetorian. It also helps with Abominations and Seeker Swarms somewhat.
Take an anti-barrier weapon or work with a team of anti-barrier specialists so your Flamer can then get to work on the Collectors flesh and armor.
Quarian Marksman Soldier
Edit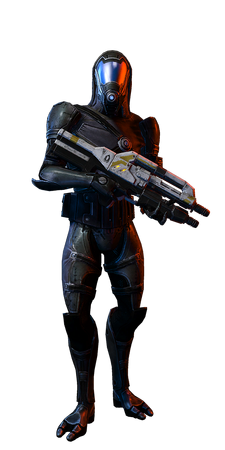 Quarians have spent centuries at perpetual salvage and ship repair--the survival of their species depends on this technical expertise.
The Quarian Marksman is a pugnacious tactician that, after assessing the situation, will just as soon blister the field with explosives as pick off enemies from a distance.
Abilities
Edit
Heavy Melee and Dodge
Edit
Incendiary Omni-Blade - The Quarian Marksman Soldier strikes with an omni-blade charged with incendiary energy.
Combat Leap - The Quarian Marksman Soldier jumps out of the way incoming attacks.
Player Notes
Edit
General Notes
The Quarian Marksman is a class capable of dealing a lot of damage in few seconds while rendering enemies defenseless. Combining the increased accuracy and rate of fire of Marksman with the stacking damage bonus of Tactical Scan and Sabotage (if evolved to do so), the Quarian Marksman is especially useful for taking down large enemies like Atlases, Banshees and Praetorians.
Because cooldowns remain important to this class, weight should be an important factor in weapon selection.
Sabotage remains a highly situational skill; it is useful against Cerberus and geth, but less useful against Reaper or Collector forces. Sabotage may not be worth investing all 21 points into because it competes with Marksman and Tactical Scan for cooldown time and because it remains a situational power.
The Tactical Scan, Marksman, and Quarian Defender powers all have evolutions which increase weapon damage-per-second and headshot damage. High-accuracy rifles, shotguns equipped with the Smart Choke mod, and heavy pistols with the Cranial Trauma System mod are recommended for a Quarian Marksman who specializes in headshots.
Tactical Scan can be evolved to provide a maximum of 32.5% extra power damage against enemies, and Sabotage's Rank 6 Tech Vulnerability evolution increases tech damage against a target by 50%. Combined, these two debuffs allow squadmates focused on tech powers to inflict devastating damage against strong targets.
The Quarian Marksman has 100 less shields than the other quarian classes so he is a little bit more flimsy. To compensate, an update was put in to increase the damage they can potentially inflict. When all weapon upgrades to damage are obtained, a 30% damage boost is given to weapons, where other Quarians would only gain a 22.5% damage increase.
Cerberus
The Level 6 Area Scan evolution of Tactical Scan is very useful for revealing enemies through smoke.
Sabotage can hack Atlases and Turrets.
Sabotage can help the Quarian Marksman bring their firepower to bear against Atlases and Turrets, since a hacked synthetic won't be firing upon them.
Reapers
Tactical Scan, combined with Marksman, can make short work of heavy enemies such as Brutes and Banshees.
Geth
Sabotage can hack geth units, but its long cooldown limits power usage. However, it is useful to delay the actions of dangerous enemies with deadly ranged attacks such as Geth Rocket Troopers, Geth Bombers and Geth Primes.
The Quarian Marksman shines against the Geth. Geth heads are easy to target to ensure maximum headshot damage and Sabotage will not only turn any enemy against their former allies but also provide a safe period for the Marksman to fire upon a hacked enemy without fear of retaliation from their target.
Collectors
Tactical Scan, combined with Marksman, can make short work of heavy enemies such as Scions and Praetorians.
Geth Juggernaut Soldier
Edit
The geth are a humanoid race of networked AIs that were created by the quarians 300 years ago as tools of labor and war. Having since won their freedom from their creators, the geth have proven they are able to reason, analyze situations, and deploy tactics as well as any organic race so long as they remain networked with other geth.
The Geth Juggernaut is a heavy geth infantry platform. Like the Geth Prime, it towers above ground forces as an intimidating presence on the battlefield.
Abilities
Edit
Heavy Melee and Dodge
Edit
The Juggernaut drains any defences and even Health with electrical currents, while incapacitating smaller targets and restoring your own shields. You can maintain this for several seconds, as long as you hold the melee button, but there will be a short cooldown afterward.
The Geth Juggernaut lacks a dodge maneuver.
Player Notes
Edit
General Notes
Additionally, with maximum evolution for shields and health, combined with Stronghold Package V and Cyclonic Modulator IV, the Juggernaut can reach 8000 shields plus 27% shield recharge delay bonus.

The Juggernaut is also completely immune to stuns during the heavy melee attack.

The Heavy Melee can't lift/immobilize enemies with armor, though Dragoons will be briefly stunned by it.

It can be interrupted if the victim is affected by powers such as Singularity, Pull or anything else that has a Force effect.
The amount of shields drained by the Heavy Melee does not increase beyond the value provided by Hardened Platform, although the damage inflicted can be increased by melee bonuses.
Targeting an enemy for the Heavy Melee can be difficult if it is standing on a ramp. Smoke Grenades can likewise prevent you from using it.
If an enemy is targeted with heavy melee while climbing up a ladder, the animation will appear for a moment, then the enemy will float up in to the air for several meters, before the chain is broken. The enemy will then be stunned for a short time, and get up as if the melee had broken normally.

Likewise, if an enemy is targeted while climbing down a ladder, the enemy will fly out from the ladder perpendicularly until the chain is broken. The enemy will then be stunned for a short time, and get up as if the melee had broken normally.

The Light Melee is a short range blast of energy from the Juggernaut's hand, which will momentarily stun enemies (including Atlas Mechs).
The Juggernaut is immune to sync-kills, has the highest stun resistance in the game and cannot be grabbed by Husks or Abominations.
The Juggernaut is slow, can't sprint, and can't jump over cover, but it can climb ladders and it doesn't slow down when carrying objects or using the Geth Spitfire assault rifle.

Going for the Speed Boost in Hardened Platform alleviates the slow movement somewhat and the boost is fairly easy to maintain.

The Juggernaut is very tall, allowing a limited ability to see over cover. This also prevents it from using smaller pieces of cover.
The Geth Turret's shield restore adds even more survivability. Deploy it close to the Juggernaut, and consider adding the Flamethrower evolution to help with enemies that make it to you, making it especially useful when getting flanked or surrounded.
Although the Hex Shield does not allow your own gunfire to pass through, a good technique even against heavy enemy units is to heavy melee through the Hex Shield, draining your enemy's health while avoiding damage.

Avoid standing too close to the shield while doing so, as some attacks (such as Ravagers and Scions) will still damage you.
Weapons with piercing mods can shoot through the shield, but doing so will damage the shield and apply the usual penalties for piercing cover.
The Flamer power will appear to go through the shield but will do no damage to enemies on the other side, instead it will only damage the shield.

Hex Shield evolved towards damage over time can prime melee units, like Phantoms, for tech explosions.
Being a defensive oriented character, the Juggernaut proves to be the best character to carry objectives such as escorts and hacking.
Geth Juggernauts work extremely well in close proximity to one another and grouped in close spaces. Consider having a team of Juggernauts, each with a different specialization; one Juggernaut can be defensively built, one can deploy healing turrets, and can act as an artillery unit. A group of Geth Juggernauts can easily handle the most dangerous enemies of a faction in Gold if they work together to drain the targets using heavy melee.
One can exploit the heavy melee of the juggernaut by equipping a shotgun to sweep down enemies stunned by your melee.
The Geth Juggernaut is by far the most durable of all the characters. Even with no points into fitness the Juggernaut has significantly more health and shields than most characters fully developed into health and shields. In addition, every power can be evolved to further boost durability. This makes it easier for you to go toe-to-toe with tough foes such as Banshees, Phantoms, Geth Primes, and Praetorians.

However, caution must be observed; don't think that the Juggernaut is invincible. It can still be swarmed by smaller enemies.

Since the Geth Juggernaut is immune to stun and instant kills and can eat a lot of damage, the Particle Rifle would work well with the Juggernaut since nothing but dying and overheating can interrupt the rifles firing sequence, it's unlimited ammo removes the trouble of having to walk back to an ammo box, and your tall height makes it easier to spot enemies.
The Geth Juggernaut is far and away the best "tank" character in Multiplayer, and can be an invaluable asset to the team on Gold and Platinum difficulty. Its ability to absorb epic amounts of damage and regenerate shields, combined with its immunity to sync kills and very high stun resistance, allow it to hold the line against any and all opponents. Because of this, it excels at drawing the attention of the most dangerous enemies away from squadmates, who can then unleash their full arsenal of firepower and abilities to support the Juggernaut. The support should be the killing of fast firing infantry like Geth Troopers, Cannibals and Marauders, because they can drain the Juggernauts shields very fast.
Cerberus
Since the Juggernaut is immune to sync-kills, it can easily stack itself against Atlases and Phantoms to draw their attention away from the rest of the squad, while draining their shields with Heavy Melee.
The heavy melee can immobilize and incapacitate Phantoms and Guardians, like any other infantry class. With relatively low barrier and health values, this can quickly kill them.
Nemeses, Atlases and turrets can quickly bring down shields, even on Silver. This can be partially mitigated with the Protection evolution from the Siege Pulse.

If you are having trouble, the extra large Hex Shield is an excellent damage sink against the Atlas, turrets, and Nemeses.
A well-timed Siege Pulse against an Engineer setting up a turret will interrupt the process.

The Heavy Melee can't lift/immobilize Dragoons. However, they will be briefly stunned by it.
Geth
Having a natural resistance to stun and being able to drain energy from synthetics, the Juggernaut can deal with the geth easily.
Hex Shield is very useful for protecting the party from the heavy damage and stun that the Geth cause. It also catches Geth Hunters that the party may miss if the Shock evolution is taken.
Geth Pyro flames pass through the Hex Shield visually, but cause no damage to anything behind it.
Geth Juggernaut taking defense evolutions can easily handle 2 Geth Primes and multiple troops at the same time by using heavy melee on Gold.
Geth Bombers can be problematic due to the Juggernauts slow movement speed and should be taken down quickly. They are also completely immune to the stun effect of the Heavy Melee.
The Heavy Melee will prevent Geth Pyros from firing.
Reapers
Since the Juggernaut is immune to sync-kills, it can easily stack itself against Banshees to draw their attention away from the rest of the squad while draining her barriers with Heavy Melee.

This works with Brutes as well, but because they are more aggressive, it is more difficult.
This strategy can be a lifesaver on Gold, since the ire of all enemies capable of sync-killing can be reliably focused on the Juggernaut, allowing the squad to focus fire, and not be routed by advancing Banshees and Brutes.

Be wary of Ravagers at long distances, as the Juggernaut is very slow and the blast radius from a Ravager's cannon means that shots can damage you through a Hex Shield. Standing back a short distance from the shield will prevent this.

It is recommended to close the distance as quickly as possible, absorbing energy from passing enemies to increase survivability.
Alternatively, Siege Pulse is effective against isolated Ravagers, but multiple Ravagers can still bring the Juggernaut's shields down faster than they can be killed by Siege Pulse.
Collectors
Since the Juggernaut is immune to sync-kills, it can easily stack himself against Praetorians to draw their attention away from the rest of the squad while draining his barriers with Heavy Melee.
Despite its high shields, even Possessed Abominations can give trouble to the Juggernaut if they explode too close.

Since the Juggernaut cannot be grabbed, he lacks reliable means to decapitate Abominations to prevent the explosion.

Beware of Scions. Even with a fully defensive build, a single Scion can take down the Juggernaut's defenses extremely quickly, especially on higher difficulties. Stick to large cover, or make extensive use of Hex Shield to survive.

Grenades from Possesed Scions usually pass through the shield, so watch out for those.

Be careful while fighting a Praetorian in close range, as their melee attacks can even stun Juggernauts, stopping you from using heavy melee attacks.
Seeker Swarms will not prevent you from firing Siege Pulses, though they do block the recharge (the power icon will not display the swarm effect).
Hex Shield with the Shock Evolution will stop any Seeker Swarm attempting to pass through it, causing them to explode after a short time. This can still cause players to be swarmed if they are standing too close to the shield.
References
Edit