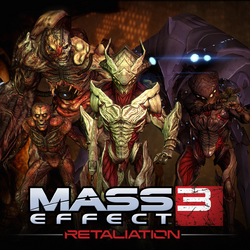 Mass Effect 3: Retaliation is a DLC pack for Mass Effect 3. It was released on October 9, 2012 for all platforms in North America, and October 10, 2012 for PlayStation 3 in Europe.[1]
Description
Edit
The Black Arks have arrived! In Mass Effect 3: Retaliation, Harbinger unleashes a new wave of terror on the galaxy: the Collector legions! Battle this all-new fourth enemy faction as well as reinforcements to existing factions like the Cerberus Dragoon and Geth Bomber. Face environmental hazards on the original six game maps, and achieve victory with new ammo powers, gear pieces, kits for the turians and volus, and Collector weapons!
References
Edit
Ad blocker interference detected!
Wikia is a free-to-use site that makes money from advertising. We have a modified experience for viewers using ad blockers

Wikia is not accessible if you've made further modifications. Remove the custom ad blocker rule(s) and the page will load as expected.