Mass Effect 3: Datapad
Talk

54
2,830pages on
this wiki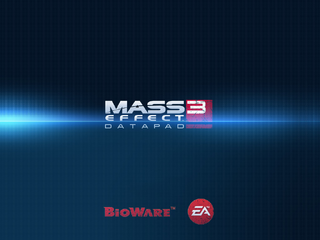 Mass Effect: Datapad is a free[1] app for iOS devices, released on 12th March 2012. Datapad allows players to check the status of the galaxy map in Mass Effect 3 and receive messages from characters.[2] Datapad also contains a Codex, as well as mini-games that interact with the Mass Effect 3 Galaxy at War system.[3]
Alliance News
The Alliance News section of the app includes an official Mass Effect news feed as well as the official Mass Effect and BioWare Twitter feeds.
Note: Only available on the english version.
Mail
Main article: Mail (Mass Effect: Datapad)
In Mail the user can receive text messages from various characters from Mass Effect 3 as the player completes missions in the game. These messages are stored locally and can be received again after being deleted.
Media
Media includes a selection of screenshots and videos from Mass Effect 3.
Galaxy at War
In Galaxy at War mode users can view their Galaxy at War Readiness Rating as well as deploy fleets to various locations in the galaxy for credits and an increase in Readiness for the associated theater. Once a fleet is deployed the player must wait out the duration of the mission, after which the rewards can be collected.
Missions take place on three different locations on each of the main theaters. Each location is either a short (1 hour), medium (3 hours) or long (6 hours) duration and appropriately increases the readiness an increment amount. The theaters and locations (in order of duration) are:
Credits earned during Galaxy at War missions can be used to purchase upgrades:
Speed reduces the time it takes to complete missions.
Fleets purchases additional fleets.
Shielding reduces the chance of a fleet being crippled.
Bonus Readiness Rating earns additional readiness rating per mission.
There are ten levels available for the Speed, Shielding, and Readiness upgrades and three levels of the Fleets upgrade, with each level both increasing the effect of the upgrade and costing more.
Once all basic upgrades have been purchased, advanced upgrades become available:
Galactic Command Coordination Earns significant additional readiness rating per mission.
There are three levels of Galactic Command Coordination available, with the first level costing 10,000 credits, 25,000 for the second and 40,000 for the third.
With all of the Bonus Readiness Rating upgrades and Galactic Command Coordination upgrades, a single third level mission will produce 3.17% readiness rating increase.
Codex
The Codex section of the app includes a portion of the Mass Effect 3 Codex.
References
↑ http://www.ripten.com/2012/02/08/mass-effect-3-info-blowout-includes-infiltrator-datapad-functionality-with-ios/
↑ http://kotaku.com/5883150/receive-texts-from-mass-effect-characters-with-the-mass-effect-datapad-app