Mass Effect: Genesis 2
Talk

13
2,884pages on
this wiki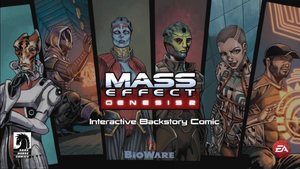 Mass Effect: Genesis 2 is an "interactive backstory comic" produced by Dark Horse Comics for Mass Effect 3: Special Edition for Wii U, and is included on-disc.[1] It is an updated version of Mass Effect: Genesis, which was originally created for the PlayStation 3 release of Mass Effect 2. Genesis 2 was released on April 2, 2013 for Xbox 360, PC, and PlayStation 3.
Genesis 2 fills the role of Mass Effect and Mass Effect 2 for new players to the series, introducing them to the story of the first two games in the Mass Effect trilogy and allowing them to make some of the major plot decisions that players could make by playing through the previous games (see Save File Transfer). The player is prompted to begin Genesis 2 after character creation, but using it is optional. There are two versions of the comic, one each for a male and female Commander Shepard.
Mass Effect: Genesis 2 allows players to make six choices from Mass Effect and six choices from Mass Effect 2.[2]
Mass Effect
Edit
Mass Effect 2
Edit
How many squadmates did Shepard recruit, all of them or only some?
Did Shepard resolve or ignore the conflicts between some squadmates?
Did Shepard stay true to friends from Mass Effect, or move on?
Did Shepard immediately go through the Omega 4 Relay to rescue the crew, or improve the Normandy SR-2's weapons and armor first?
Did Shepard start a new romance?
Did Shepard choose to spare or destroy the Collector Base?
Like Mass Effect: Genesis, Genesis 2 does not mention some events and subjects that were part of the games. Details from Mass Effect that are missing include the mission on Feros,[3] and the geth and their overall involvement in the game. Details from Mass Effect 2 that are missing include squadmate recruitment and loyalty missions, other possible romance options, and other major story missions such as Horizon. Additionally, no assignments or events accessed through downloadable content for either game are explored. This means that Kasumi Goto and Zaeed Massani will not make appearances in Mass Effect 3 if Genesis was used to recall actions made in the first two games (people using PC clients may or may not be able to override the file that keeps Kasumi and Zaeed from appearing).
Mass Effect: Genesis 2 cannot be used if the player imports a save file from Mass Effect 2 into Mass Effect 3.
Mass Effect: Genesis 2 is included on-disc in Mass Effect 3: Special Edition for Wii U. It is available for 320 BioWare Points on PC and $3.99 USD on XBox 360 and Playstation 3.[4]
References
Edit