Home
Talk

252
2,972pages on
this wiki
Welcome to Mass Effect Wiki!
The comprehensive encyclopedia for the Mass Effect universe
2,972 articles since July 2007
Nyreen Kandros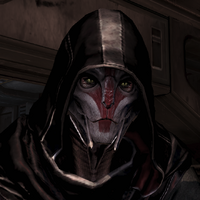 Dissatisfied with her posting in the turian cabals, Nyreen Kandros left and wandered into Omega hoping to make use of her abilities as a mercenary. She caught Aria T'Loak's attention, and the two began a short-lived relationship. Nyreen remained on Omega unbeknownst to Aria after their break-up, and took part in resisting the Cerberus takeover of the station in 2186. During Aria's campaign to reclaim Omega, Nyreen encounters Commander Shepard and Aria in the secret passageways known only to the ex-lovers. Her actions before and during the conflict contribute to major turning points in the battle to control the station. more...
Not sure where to start?
Adding content
Wiki maintenance
Help us by lending a hand with one of our current projects.
Make your voice heard in our policy forum.
Clean up articles in need of attention.
Editorial help correcting spelling or grammar is always appreciated.
Know of languages other than English? Append language links on articles with translations to other tongues.
November 7, 2014 - Second N7 Day anniversary! Developer round table at twitch on 10 AM PST announced.
August 7, 2014 - Casey Hudson, long-time project director for the Mass Effect franchise, leaves BioWare.
July 23, 2014 - Issue Thirteen, the final issue of Mass Effect: Foundation, is released.
June 25, 2014 - Issue Twelve of Mass Effect: Foundation is released.
May 28, 2014 - Issue Eleven of Mass Effect: Foundation is released.
April 23, 2014 - Issue Ten of Mass Effect: Foundation is released.
August 8, 2014 - Parent Page introduced as part of a Wikia effort to guide parents/guardians on the suitability of the games to their children.
July 18, 2014 - Mass Effect Wiki is now seven years old!
July 18, 2013 - Mass Effect Wiki is now six years old! Thanks to all contributors who have helped the wiki succeed!