Maelon Heplorn
Talk

16
2,896pages on
this wiki
Maelon Heplorn
is a
salarian
geneticist, former operative of the
Special Tasks Group
, and former student of
Mordin Solus
. With Mordin, Maelon participated in the modification of the
genophage
, a biological weapon of mass destruction, the effects of which had been wearing off.
Mass Effect 2
Edit
In 2185, Maelon is reported as captured by krogan warriors attempting to reverse the effects of the genophage virus. Mordin requests the aid of Commander Shepard in retrieving Maelon from his captors.
Upon confronting Maelon, it becomes apparent that he is not working under duress and instead volunteered his services to the krogan. He expresses extreme guilt for his work on the genophage, which he considers to be a form of cultural genocide. He admits that the only reason he went along with the genophage modification project in the first place was because he believed that his mentor knew best.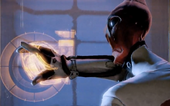 Maelon claims that, despite the genophage, the universe is no less chaotic, citing the
batarian
and
geth
attacks. He points out how male krogan fight over fertile females and become mercenaries or pirates because they have no alternative. They'd be thriving in a cultural renaissance if salarians didn't think to become judges of the universe. Maelon also claims that if the Council had a krogan army, they could have stopped
Saren
and the
geth
at
Eden Prime
. His reasoning is that an increased krogan population would've compelled the Council to take certain steps, consider colonial rights and have their fleets become more vigilant. Mordin dismisses this as pure speculation, and insists that their work on the genophage was correct given the verified data.
Mordin and Shepard put a stop to Maelon's experiments. Mordin is infuriated at Maelon's betrayal and his unethical experiments and tries to shoot him. Shepard can intervene, reminding Mordin he is not a murderer, or let Maelon die. If Maelon is allowed to live, Mordin suggests that he go to Omega and run his own clinic. Furthermore, Maelon won't be able to restart his work, for STG can cover their tracks, and other krogan would not be willing to believe that he could cure the genophage. Shepard also makes the decision on retaining Maelon's research data or destroying it.
Mass Effect 3
Edit
It is revealed that not all females died in Maelon's experiments. Some survived and were captured by STG and brought to Sur'Kesh. If Mordin survives the Suicide Mission, he leaks the information to Clan Urdnot, provoking the necessary political pressure to have the females released. If Maelon's research is preserved, it would prove essential in finalizing a cure. The surviving female, nicknamed Eve, explains that though Maelon had good intentions, his methods became more barbaric as he went.
If Maelon was spared, he follows Mordin's advice and opens his own clinic on Omega. He also sends a message to Shepard if the genophage is cured.
E-Mail: The cure!
Edit