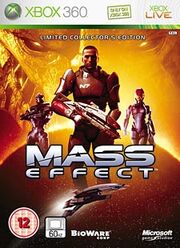 The Mass Effect Limited Collector's Edition' was offered through participating retailers. It included the following bonus materials:
A Mass Effect fiction book titled "Galactic Codex: Essentials Edition 2183"
A 36-page guide to the Mass Effect universe, including a Citadel timeline and a guide to all non-human races, biotics and the key locations in the Perseus arm of the galaxy
An additional Mass Effect art book titled "A Future Imagined"
A 36-page collection of BioWare's concept art for the game
A bonus DVD of exclusive Mass Effect background material and additional content including:

"The Vision of Mass Effect" documentary
"The Making of Mass Effect" documentary
"Interactive Storytelling" documentary
"Inside BioWare" documentary
18 Mass Effect themed gamer pics (three unique sets of six)
16 dashboard themes (four unique sets of four)
Ten songs from the Mass Effect soundtrack
Five historical Mass Effect trailers from X05 through E3 2007 and the official TV trailer
A demo for "Blue Dragon" and videos for "Lost Odyssey," "Halo 3" and "Halo Wars"
Design galleries featuring 600 concept images fully commented by the Art Directors
Polish PC Collector's Edition
Edit
A Collector's Edition for the PC version of the game was sold exclusively in Poland[1][2] and it featured the following content:
A black cardboard box with a print depicting a planet on the bottom half of the box, as well as the Mass Effect logo and the words "Edycji Kolekcjonerskiej" (Collector's Edition in Polish)
A DVD box housing the English and Polish copies of the game, and a bonus DVD (possibly the same found in the Xbox 360 Limited Collector's Edition)
A N7 t-shirt
An art book (possibly the same found in the Xbox 360 Limited Collector's Edition)
A guide to the game in Polish
A mouse pad featuring the Normandy
Three postcards
A 2 GB USB flash drive with the Mass Effect logo printed on it
A blue lanyard with the Mass Effect logo repeated all over its length
Retailers
Edit
In the US and Canada the Limited Collector's Edition was only available through online orders, while in Europe it could be purchased in stores.
Online retailers that sold the Limited Collector's Edition when it was available in the US and Canada were:
It may be possible to find the Limited Collector's Edition through other online stores now.
See Also
Edit
References
Edit
Ad blocker interference detected!
Wikia is a free-to-use site that makes money from advertising. We have a modified experience for viewers using ad blockers

Wikia is not accessible if you've made further modifications. Remove the custom ad blocker rule(s) and the page will load as expected.