Kite's Nest: Pillars of Strength
Talk

3
2,896pages on
this wiki
A batarian refugee needs the Pillars of Strength to improve his people's morale. Find the pillars in the Kite's Nest and return them to him at the Citadel refugee camp.
Acquisition
Edit
Listen to the batarian preacher who is standing near the entrance of Cargo Hold C in the Docks: Holding Area. You can also acquire it if you scan the planet first. This second way of acquisition is possible even before the Docks becomes available on the Citadel.
Walkthrough
Edit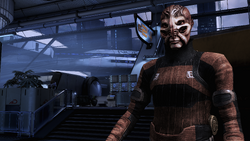 Travel to the Kite's Nest cluster. In the
Harsa
system, scan the second planet named
Khar'shan
. Head back to the Citadel and talk to the batarian who will reward you for your efforts and thank you for restoring faith to his people.
Getting the pillars back to the preacher gives you 15,000 credits, 5 Reputation and updates the Batarian Fleet War Asset.