Location: Andromeda / Heleus Cluster / Govorkam / Kadara
Kadara Port is a settlement on Kadara ruled by Sloane Kelly, former Nexus security official.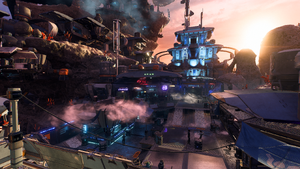 Primarily inhabited by exiles, pirates and mercenaries, it was reportedly once a trade port for the angara, who still have a presence in the area.
Notable port locations include:
Kadara Docks
Kadara Market
Kralla's Song
Outcast Headquarters
Below Kadara Port is located the Kadara Slums.
Kadara Port is also the location of one of the Research Centers on Kadara.
Residents
Edit
Missions
Edit
The following Priority Ops missions take place or are acquired in Kadara Port:
The following Allies and Relationships missions take place or are acquired in Kadara Port:
The following Heleus Assignments missions take place or are acquired in Kadara Port:
The following Additional Tasks take place or are acquired in Kadara Port:
Datapads
Edit
Datapad on the Kadara Docks:

Datapads located in the Kadara Market:

Datapads located in the Outcast Headquarters:

The following datapad is only available if Ryder sides with Reyes Vidal during High Noon:

If Ryder frees Vehn Terev during Hunting the Archon, this datapad will appear near the tunnel that Ryder uses:
Terminals
Edit
Terminal entry located in the Outcast Headquarters:

Terminal entries in the jail on the Kadara Docks: