KEI-9
Talk

15
2,884pages on
this wiki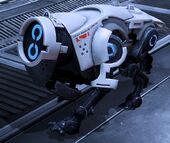 KEI-9 is a dog-mech that was left behind by an engineer working on the overhaul of the Normandy SR-2. The engineer sends Commander Shepard an email about the mech and requests that the Commander take care of it for her. KEI-9 will take up walking around the Shuttle Bay of the SR-2.
KEI-9 appears to be a model of the FENRIS Mech.
KEI-9 is only available in the N7 Collector's Edition Pack for Mass Effect 3.
The name KEI-9 appears to be a play on the word "canine".
Gabriella Daniels will refer to KEI-9 as "Sophie" in a conversation with Kenneth Donnelly.
KEI-9 is not a squad member but is purely cosmetic, unlike Dog from BioWare's other main series Dragon Age.
If Shepard stands in one spot long enough, KEI-9 will wander by and then go into sleep mode by the Commander's feet.