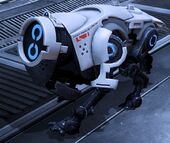 KEI-9
is a dog-mech that was left behind by an engineer working on the overhaul of the
Normandy SR-2
. The engineer sends
Commander Shepard
an email about the mech and requests that the Commander take care of it for her.
KEI-9 spends its time roaming the Shuttle Bay of the SR-2, occasionally projecting blue beams onto its surroundings. If Shepard stands in one spot or blocks the dog-mech's path long enough, KEI-9 goes into sleep mode by the Commander's feet.
Email
Trivia
Ad blocker interference detected!
Wikia is a free-to-use site that makes money from advertising. We have a modified experience for viewers using ad blockers

Wikia is not accessible if you've made further modifications. Remove the custom ad blocker rule(s) and the page will load as expected.