Ad blocker interference detected!
Wikia is a free-to-use site that makes money from advertising. We have a modified experience for viewers using ad blockers

Wikia is not accessible if you've made further modifications. Remove the custom ad blocker rule(s) and the page will load as expected.
Guardian Armor is a type of armor produced by Elanus Risk Control. It provides light to moderate protection.
Light Armor
Edit
Light Duelist/Guardian Armor (human,turian)
Armor Level:
I
II
III
IV
V
VI
VII
VIII
IX
X
Manufacturer:
Elanus Risk Control Services
Damage Protection:
2
4
6
8
10
12
14
16
18
20
Shields:
70
90
110
130
150
170
190
210
230
250
Tech/Biotic Protection:
0
0
1
4
6
9
12
14
17
19
Medium Armor
Edit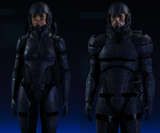 Medium Duelist/Guardian Armor (human, krogan, turian)
Armor Level:
I
II
III
IV
V
VI
VII
VIII
IX
X
Manufacturer:
Elanus Risk Control Services
Damage Protection:
14
16
18
20
22
24
26
28
30
32
Shields:
90
110
130
150
170
190
210
230
250
270
Tech/Biotic Protection:
0
0
0
0
0
0
0
1
4
6
Heavy Armor
Edit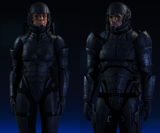 Heavy Duelist/Guardian Armor (human, krogan)
Armor Level:
I
II
III
IV
V
VI
VII
VIII
IX
X
Manufacturer:
Elanus Risk Control Services
Damage Protection:
30
32
34
36
38
40
42
44
46
48
Shields:
120
140
160
180
200
220
240
260
280
300
Tech/Biotic Protection:
0
0
0
0
0
0
0
0
0
0