Graybox
Talk

10
2,828pages on
this wiki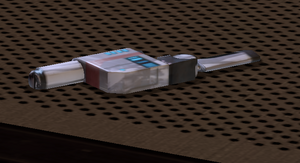 A graybox is, essentially, a collection of snapshots of a person's memories. While originally developed to help treat Alzheimer's, the dangerous side-effects from the implant procedure (should the graybox either need to be removed for maintenance purposes or if it developed software bugs, extensive brain damage would occur) ultimately restricted its use to researchers and intragalactic spies. When a graybox is accessed by a specialized reader, the collection of memories contained within appear as snapshots, while the memory being viewed is played as a video.
Only two individuals are known to have grayboxes, partners Kasumi Goto and the late Keiji Okuda. Keiji was killed by Donovan Hock for his graybox and has been trying to crack it since he obtained it for the information that Keiji recorded in it. While Hock was trying to crack it, Kasumi was planning to take it back, and after seeking out Cerberus, which had been attempting to contact her, saw an opportunity to get it back.
If Kasumi is recruited by Commander Shepard, the Commander can choose to help her retrieve Keiji's graybox from Donovan Hock on Bekenstein. After fighting through Hock's hired Eclipse security, and Hock himself, Kasumi and Shepard managed to retrieve Keiji's graybox. After the mission, Kasumi accesses Keiji's graybox and Keiji revealed to Kasumi that the information contained in his graybox, if revealed to the Citadel Council, would implicate the Alliance. Kasumi then has the option to either keep or destroy the graybox after taking advice from Shepard.
Months later, during the Reaper invasion, if Kasumi survived the Suicide Mission, she finally discovers what information could possibly be so dangerous that Keiji thought a war would break out if Kasumi didn't destroy the graybox: the Alliance carried out a black ops raid on batarians who had come across Reaper technology. That was the information Keiji hid in the graybox encrypted with his personal memories.
The Codex entry for grayboxes states that they were first released onto the market in 2140. This is an error on the part of the developers. The intended (and therefore canonical) release of the graybox occurred in 2160.