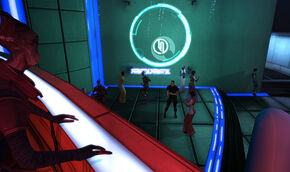 Flux
is a newly-opened nightclub on the
Citadel
which has already become very popular. The entrance can easily be found from the Upper Wards, up a set of stairs just around the corner from the entrance to the Markets. It is owned and operated by a
volus
named
Doran
, with a
human
girl named
Rita
acting as waitress.
Flux has a bar and dance floor on the ground level, with a casino on the mezzanine. An asari and two salarians on the ground level can be heard gossiping on a variety of topics: first about the goings-on at Chora's Den, then the attack on Eden Prime, and finally humanity's growing influence on galactic politics.
If you are pursuing a romance, that squad member will dance with you if you stand on the dance floor and talk to him or her several times.
Assignments
Edit
Flux provides a meeting place for Captain Anderson and Commander Shepard when they concoct their plan to steal the Normandy. Apart from that, Flux doesn't feature greatly in the main storyline, but there are several assignments associated with the club:
Ad blocker interference detected!
Wikia is a free-to-use site that makes money from advertising. We have a modified experience for viewers using ad blockers

Wikia is not accessible if you've made further modifications. Remove the custom ad blocker rule(s) and the page will load as expected.