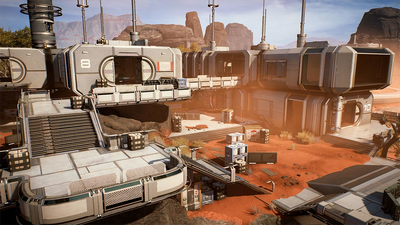 Firebase Sandstorm
is a map in
Mass Effect: Andromeda
's
multiplayer mode
. Battered by searing heat, Firebase Sandstorm is a vital asset to APEX.
Description
Edit
Researchers at this sweltering outpost develop strategies and equipment to mitigate the desert's damaging effects on armor, weapons, and shuttles. Their collected data would provide a valuable strategic advantage to anyone operating in the searing heat and coarse sand of the Heleus Cluster's desert worlds.
Ad blocker interference detected!
Wikia is a free-to-use site that makes money from advertising. We have a modified experience for viewers using ad blockers

Wikia is not accessible if you've made further modifications. Remove the custom ad blocker rule(s) and the page will load as expected.