Ad blocker interference detected!
Wikia is a free-to-use site that makes money from advertising. We have a modified experience for viewers using ad blockers

Wikia is not accessible if you've made further modifications. Remove the custom ad blocker rule(s) and the page will load as expected.
Edolus

Planetary Map
Orbital Distance
N/A
Orbital Period
2.7 Earth Years
Keplerian Ratio
N/A
Radius
5,729 km
Day Length
50.3 Earth Hours
Atm. Pressure
0.8 atm
Surface Temp
−1 °C
Surface Gravity
0.87 g
Mass
0.697 Earth Masses
Satellites
N/A
Location: Milky Way / Artemis Tau / Sparta System /  Second planet
Description
Edit
Edolus is a terrestrial planet with an atmosphere of carbon dioxide and nitrogen. Edolus' surface is covered by wide deserts of silicate sand, with only a few areas of igneous rock highlands to break the abrasive, dust-choked wind.
Edolus' orbit is congested with debris thrown inwards by the gravity of the gas giant Ontamalca. Due to a high rate of meteor impacts, exploration is highly dangerous.
Assignments
Edit
Points of Interest
Edit
Mineral Deposits
Edit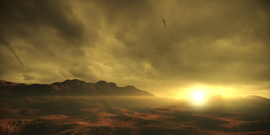 Main article: UNC: Valuable Minerals
| Location | Element | Class |
| --- | --- | --- |
| 1 | Polonium | Rare |
| 2 | Palladium | Heavy |
| 3 | Lithium | Light |
Lifeforms
Edit
Properties
Edit
The operational area on Edolus has a dusty breeze that only slightly impairs visibility. Hilly but lacking in steep inclines, going from point A to point B in a straight line shouldn't take too much time.