Ad blocker interference detected!
Wikia is a free-to-use site that makes money from advertising. We have a modified experience for viewers using ad blockers

Wikia is not accessible if you've made further modifications. Remove the custom ad blocker rule(s) and the page will load as expected.
Crisis Armor is manufactured by Jormangund Technology, a rising star of post-contact human industry.
The Crisis Armor can only be obtained through console commands.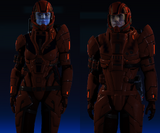 Light Crisis/Hazard Armor(human, turian)
Armor Level:
I
II
III
IV
V
VI
VII
VIII
IX
X
Manufacturer:
Jormangund Technology
Damage Protection:
21
23
24
26
28
30
32
33
35
37
Shields:
140
180
220
260
300
340
380
420
460
500
Tech/Biotic Protection:
28
30
32
33
35
37
39
41
42
44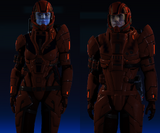 Medium Crisis/Hazard Armor (human, turian, krogan)
Armor Level:
I
II
III
IV
V
VI
VII
VIII
IX
X
Manufacturer:
Jormangund Technology
Damage Protection:
32
33
35
37
39
41
42
44
46
48
Shields:
180
220
260
300
340
380
420
460
500
540
Tech/Biotic Protection:
19
21
23
24
26
28
30
32
33
35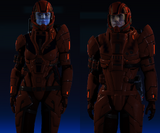 Heavy Crisis/Hazard Armor (human, krogan)
Armor Level:
I
II
III
IV
V
VI
VII
VIII
IX
X
Manufacturer:
Jormangund Technology
Damage Protection:
46
48
50
51
53
55
57
59
60
62
Shields:
240
280
320
360
400
440
480
520
560
600
Tech/Biotic Protection:
10
12
14
15
17
19
21
23
24
26