Ad blocker interference detected!
Wikia is a free-to-use site that makes money from advertising. We have a modified experience for viewers using ad blockers

Wikia is not accessible if you've made further modifications. Remove the custom ad blocker rule(s) and the page will load as expected.
Colossus Armor is manufactured by Kassa Fabrication and comes in human, turian, krogan, and quarian models. Shepard can procure the armory license for Kassa Fabrication from either the C-Sec Requisitions Officer or Petozi, the elcor merchant on Noveria's Peak 15.
Colossus Armor has the highest damage protection of all armors. It is considered one of the top two armors attainable without console commands, the other being Predator L/M/H Armor. Colossus Armor has lower shields and tech/biotic resistance than Predator L/M/H Armor, but higher damage protection. It has distinctive red and black coloring.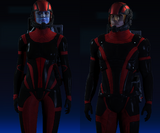 Light Colossus Armor (human, turian, quarian)
Armor Level:
I
II
III
IV
V
VI
VII
VIII
IX
X
Manufacturer:
Kassa Fabrication
Damage Protection:
-
-
-
-
-
-
62
63
64
65
Shields:
-
-
-
-
-
-
285
315
345
375
Tech/Biotic Protection:
-
-
-
-
-
-
32
34
36
38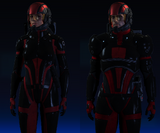 Medium Colossus Armor (human, turian, krogan)
Armor Level:
I
II
III
IV
V
VI
VII
VIII
IX
X
Manufacturer:
Kassa Fabrication
Damage Protection:
-
-
-
-
-
-
68
69
70
71
Shields:
-
-
-
-
-
-
315
345
375
405
Tech/Biotic Protection:
-
-
-
-
-
-
22
24
26
28
Heavy Colossus (human, krogan)
Armor Level:
I
II
III
IV
V
VI
VII
VIII
IX
X
Manufacturer:
Kassa Fabrication
Damage Protection:
-
-
-
-
-
-
76
77
78
79
Shields:
-
-
-
-
-
-
360
390
420
450
Tech/Biotic Protection:
-
-
-
-
-
-
12
14
16
18