Citadel: Heating Unit Stabilizers
Talk

5
2,896pages on
this wiki
A salarian on the Citadel needs new heating unit stabilizers. Find them and bring them to him in the Presidium Commons.
Acquisition
Edit
Talk to Sellea, a salarian located in front of the C-Sec Outpost in the Presidium Commons.
Walkthrough
Edit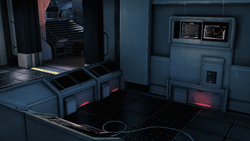 The heating unit stabilizers can be acquired during the mission N7: Cerberus Fighter Base, on the opposite wall, where the first objective is located, under the ceiling.
Alternatively if the mission is finished without finding them, they can be purchased from the Spectre terminal for 1,000 credits.
Once you have obtained them, hand it to Sellea. You will receive 5 Reputation, 30 experience, and 1,000 credits.
Note: This mission cannot be completed before finishing Priority: Tuchanka.
Interacting with the salarian after turning in the stabilizers allows you to overhear his half of a phone conversation. His sister's egg clutch has stabilized, and she wants to name the firstborn after the person who helped them.