Dekuuna: Code of the Ancients
Talk

0
2,896pages on
this wiki
An elcor on the Citadel needs the Code of the Ancients to inspire his people. Recover the holy book from Dekuuna and return it to him at the Purgatory.
Acquisition
Edit
Overhear the angry elcor just outside the Purgatory elevator on the Citadel.
Walkthrough
Edit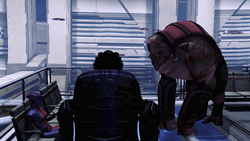 Scan the planet Dekuuna in the
Phontes
system in the
Silean Nebula
. Return it to the elcor just outside the elevator to Purgatory on the Citadel.
Note: the Phontes system will be accessible after you complete the Priority: Rannoch mission.
Completing the mission awards 5 Reputation and 15,000 credits, and updates the Citadel Defense Force War Asset.