Citadel: Batarian Codes
Talk

26
2,828pages on
this wiki
C-Sec Officer Jordan Noles has requested assistance tracking illegal use of batarian diplomatic codes. Consult the Spectre terminal and then locate access points on the Citadel.
Acquisition
Edit
Speak to C-Sec Officer Jordan Noles on the Presidium Commons. She is standing just outside the C-Sec Outpost.
Walkthrough
Edit
First head to the Spectre area in the Citadel Embassies and read the message about the batarian codes. Click "Enable" while viewing the message. After enabling access, your Citadel map will be updated with the location of the first console. Find the consoles at the following locations:
Note: The consoles MUST be found in the following order:
Huerta Memorial Hospital - Head to the right-side lab in Lab Services.
Normandy Dock: Bay D24 - Located at the Passenger Lounge.
Docks: Holding Area - At the end of Bay E28.
Note that there are two versions pertaining to how the batarian codes were used: if Bring Down the Sky was completed, the codes were used to secure more provisions for the batarians; if not, they were used in sabotages targeting humans and System Alliance military assets on Citadel.
After retrieving the final code at the Docks, someone puts a pistol in the Commander's back. It turns out to be none other than Ka'hairal Balak, if you did not outright kill him in Bring Down the Sky (he will appear even if the DLC was not completed at all). Infuriated and wanting to take vengeance for Shepard's actions in Arrival, he blames Shepard for everything that has happened to the batarians. You can either kill him or pass a Reputation check.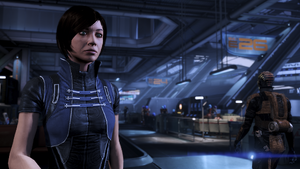 If you do not kill Balak, he leaves, but not before grudgingly committing the batarian fleet to the war. This adds Balak to your
War Assets
. If you kill Balak instead, the
Alliance Third Fleet War Asset
will have its value decreased.
If you killed Balak in Bring Down the Sky, Shepard will meet up with Noles who has a batarian in custody. The first phase of the conversation is skipped, and it proceeds directly to the second phase, minus the option to kill him.
Regardless of prior circumstances, the batarian fleet is added to your War Assets and you will gain 210 experience after completion of this mission.
Note: Using the Paragon or Renegade conversation options to recruit Balak as a war asset unlocks the second purchasable Assault Rifle Extended Barrel, Extended Magazine and Shotgun Shredder mods, as well as the Kestrel Helmet, at the Batarian State Arms store in the Refugee Holding area.
If you shoot him, the three mods and helmet will not unlock, and you will be unable to get higher than level IV in the stated mods without modding your save game file.