The C-Sec Office is a location in the Citadel. Located in the Zakera Ward's Mid-Wards District, this office is located on the 27th level of a building. This office serves as a security cordon for this section of the wards. The office is compartmentalized into a lobby, a security checkpoint, and interrogation rooms. Access to the interrogation rooms is restricted to authorized personnel. The commanding officer's desk is located in the lobby.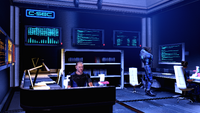 Personnel
Edit
The interior of the interrogation rooms is seen in Thane: Sins of the Father. Otherwise the door leading to these rooms is locked.
Ad blocker interference detected!
Wikia is a free-to-use site that makes money from advertising. We have a modified experience for viewers using ad blockers

Wikia is not accessible if you've made further modifications. Remove the custom ad blocker rule(s) and the page will load as expected.